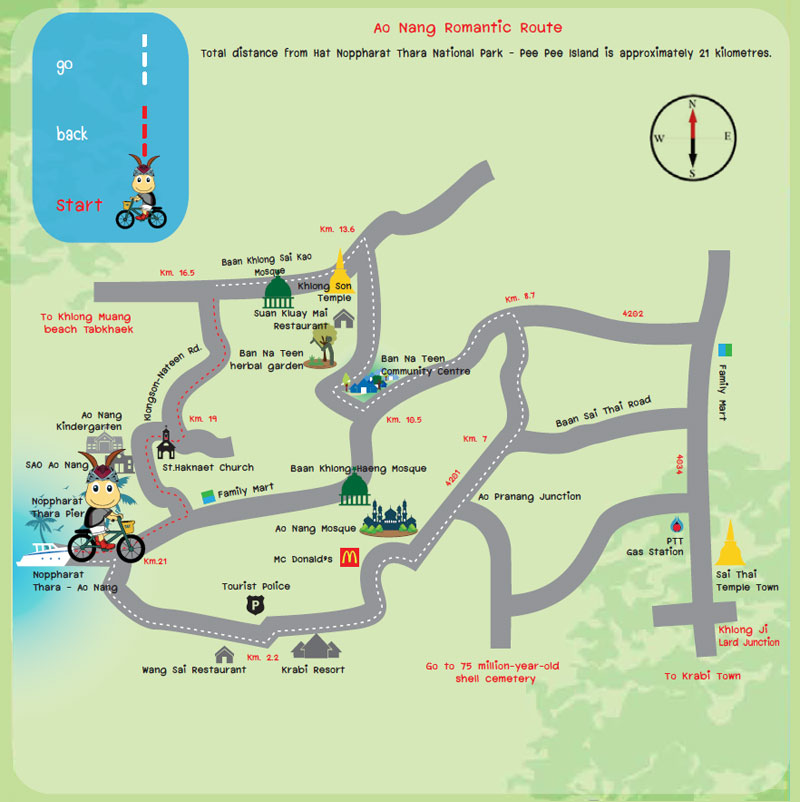 Total distance from Hat Noppharat Thara National Park – Pee Pee Island is approximately 21 kilometres.
Ao Nang romantic route, in Ao Nang sub district, connects widely to other areas. Starting from Hat Noppharat Thara National Park – Pee Pee Island, going along Ao Nang beach, bikers will find a beautiful scenery of Ao Nang beach, natural forests, Para rubber plantation and also villager's lifestyle. This is the reason why this charming route is named "Romantic route"
Attractions :
1. Noppharat Thara – Ao Nang
This is a popular place for tourists. Bikers can chill out along an almost 2.5-kilometres beautiful sandy beach before heading to next point.
2. Ban Na Teen Community Centre
The centre of qualified and superb OTOP products such as goods made from coconut shell, Batik fabric and Hua Thong boat (Long-tail boat) model. Homestays are also available here.
3. Ban Na Teen herbal garden
Bikers can take a rest in natural garden with chilling atmosphere and discover a lot of amazing medicines and treatments from herbs. This attractive point is really worthwhile for all visitors.
4. Klongson – Nateen Road
This is a small road that Biker will be touch a natural such as rubber plantation fruit orchard and mangrove forest.
*Batik is a technique of wax-resist dyeing applied to whole cloth, or cloth made using this technique. Batik is made either by drawing dots and lines of the resist with a spouted tool called a canting, or by printing the resist with a copper stamp called a cap. The applied wax resists dyes and therefore allows the artisan to color selectively by soaking the cloth in one color, removing the wax with boiling water, and repeating if multiple colors are desired.
Remark: Visitors can park pick-up trucks for bicycles loading at Hat Noppharat Thara National Park – Pee Pee Island.