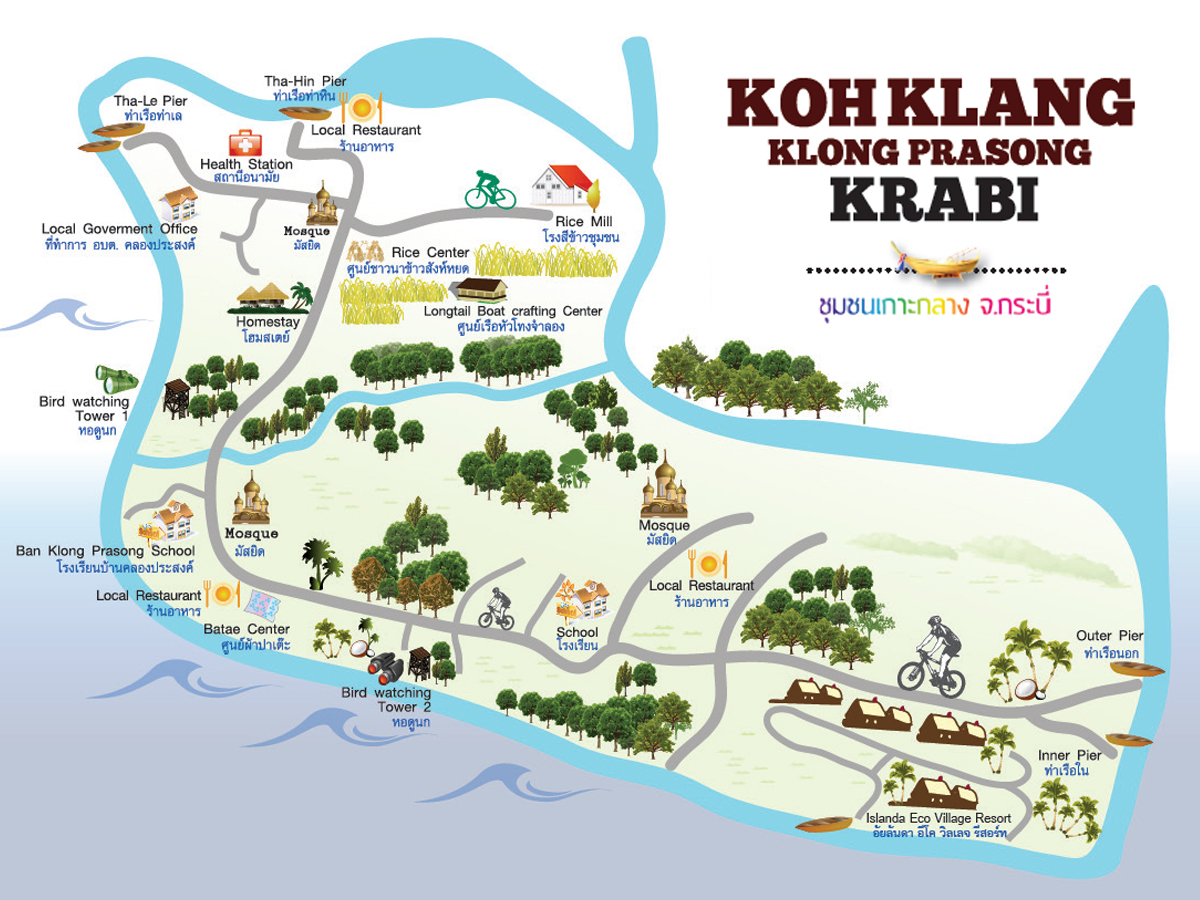 Koh Klang Village, Krabi province, Koh Klang Village is a charming, peaceful island, located 5 minutes by boat from Krabi town, populated mainly by Muslim small-fisher families. Islam is the center of local life. Daily prayers and Islamic festivals are observed devoutly. 70% of KohKlang's 5,027 inhabitants work in agriculture. Most families are fishers, followed by rice farming and tending coconut and banana orchards. The remaining 30% of inhabitants are traders or civil servants. Many people sell their produce in Krabi.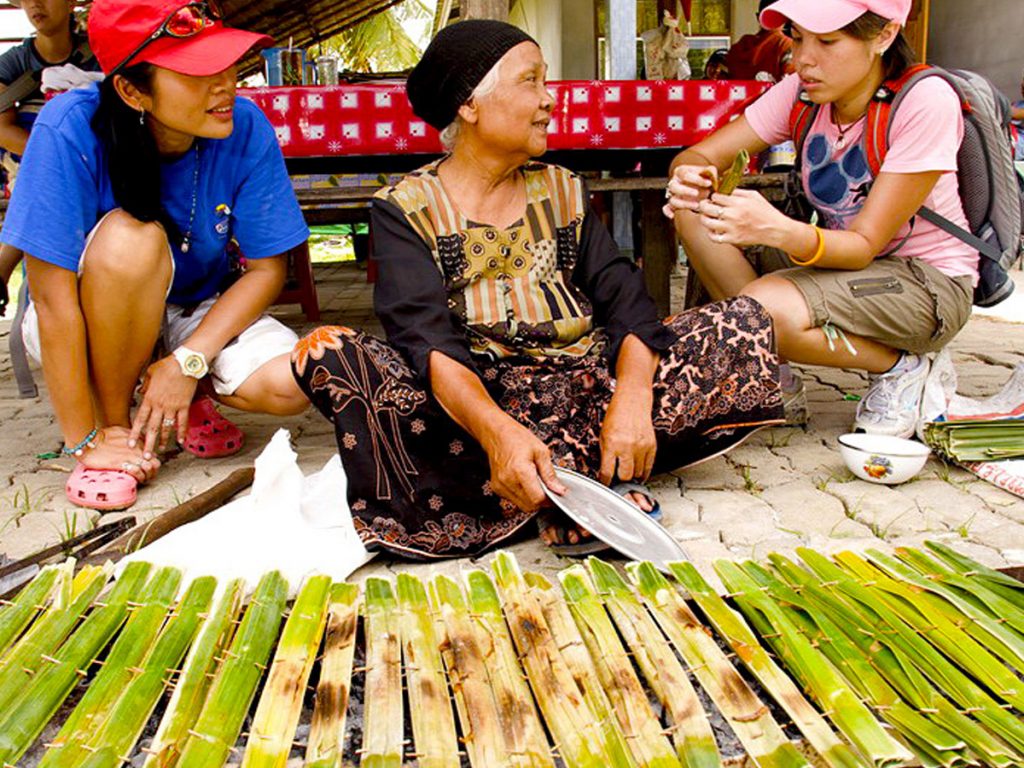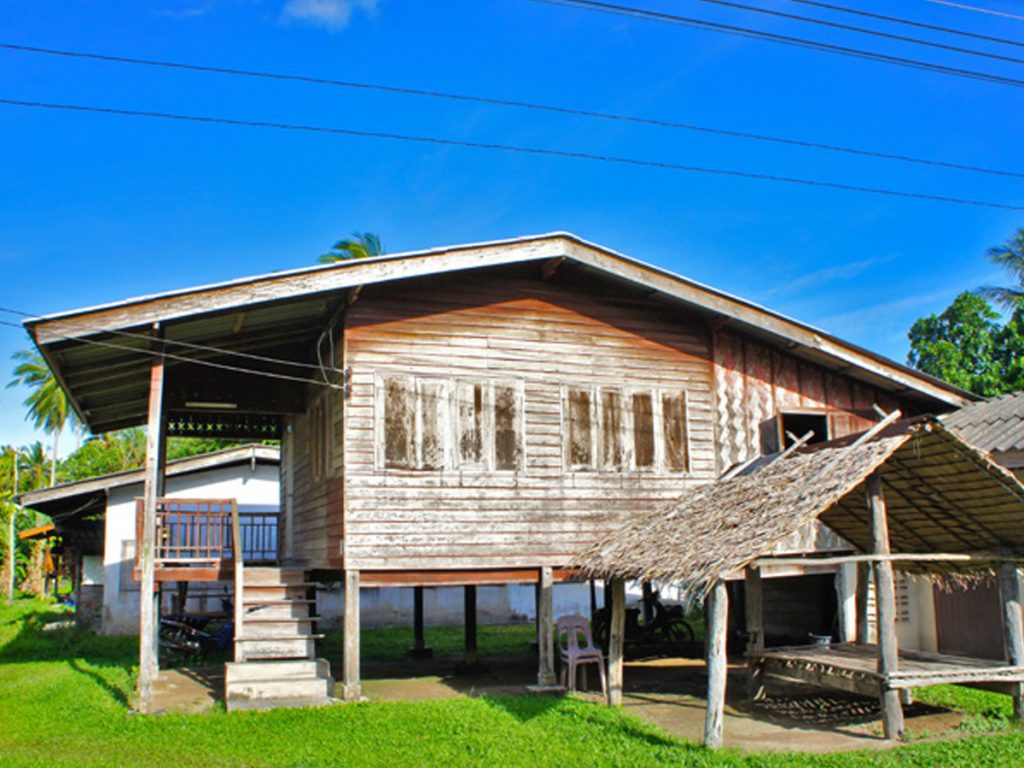 Koh Klang is not a 'paradise' of white sand beaches. It is a traditional fishing community where visitors can see the living relationship between islanders and the sea, observing daily life as the tides rise and fall. Community members use ingenious, local methods to capture fish, crabs and shellfish. The island is surrounded by pristine mangroves with great bird watching opportunities. In addition to experiencing nature and culture, visitors can also visit several community arts and crafts groups.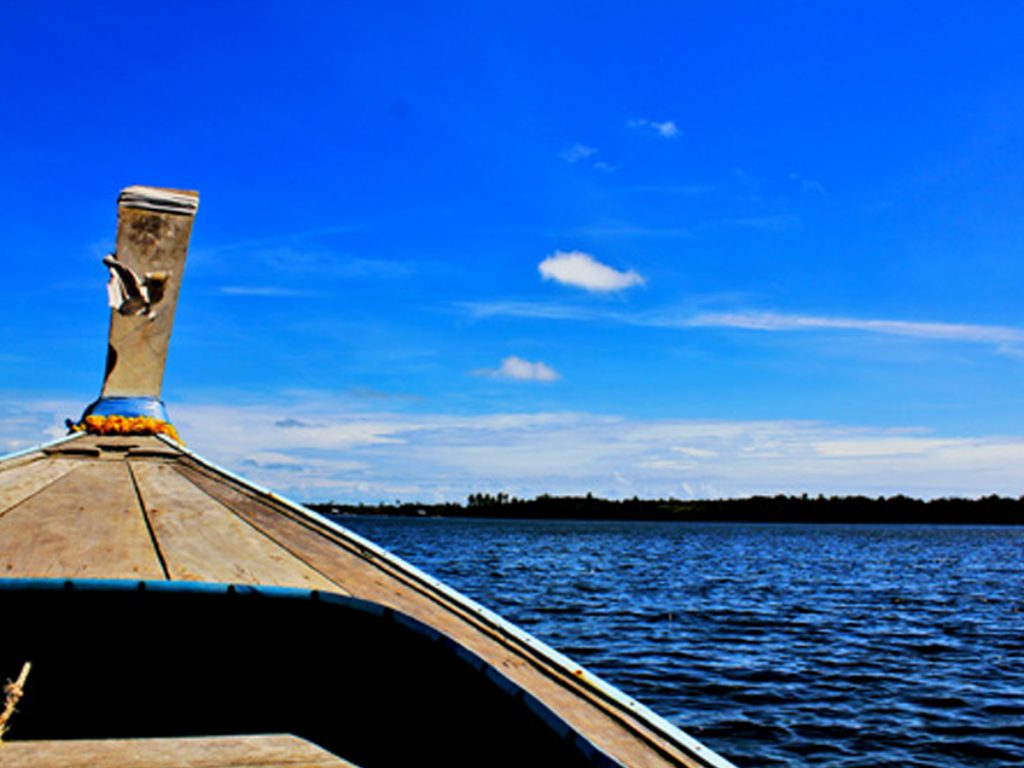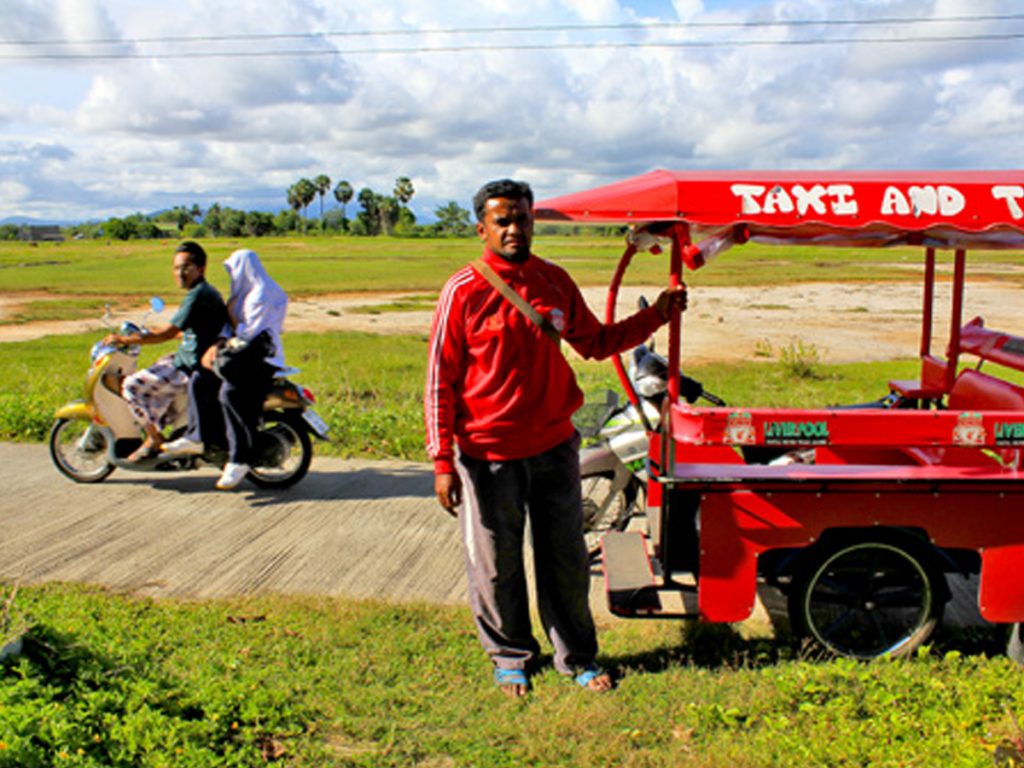 Getting There
Those who wish to visit Koh Klang could catch a ferry across from two piers on the mainland: From Thara Garden Pier to Tha Le Pier (travel time = 5 minutes) and from Chao Fah Pier to Tha Hin Pier( travel time = 15 minutes). Rides are available from 6 am to 9 pm. Once you arrive on the island, you could catch a tricycle ride or rent a bicycle from the port to get to different attractions. The island's total area is about 26 square kilometers.
---
Highlights
Small scale, coastal fishing
Small scale, coastal fishing is the original livelihood of Koh Klang's inhabitants. Their ingenuity has been honed over generations, and is exemplified by the iconic shallow-water fishing nets, which stand out starkly against an inspiring backdrop of craggy limestone hills, sea and sky. These standing nets allow fishers to catch significant quantities of fresh seafood, without even needing to own a boat! In addition, a variety of local equipment has evolved to catch different species, including crabs, catfish, squid, and huge variety of shellfish.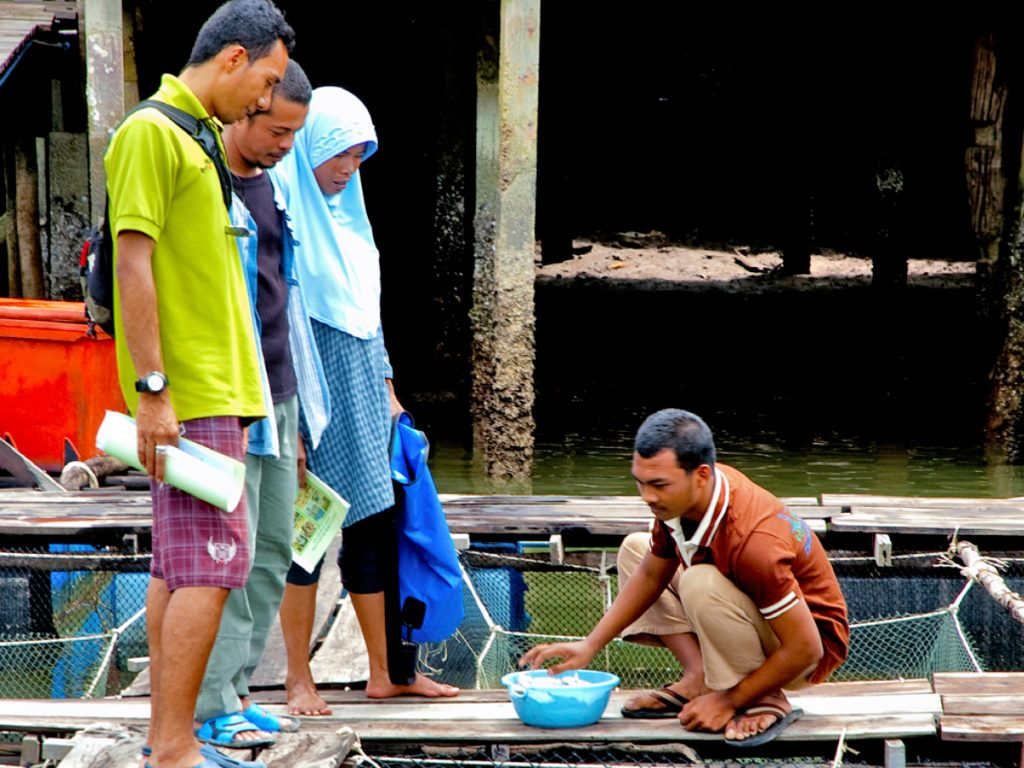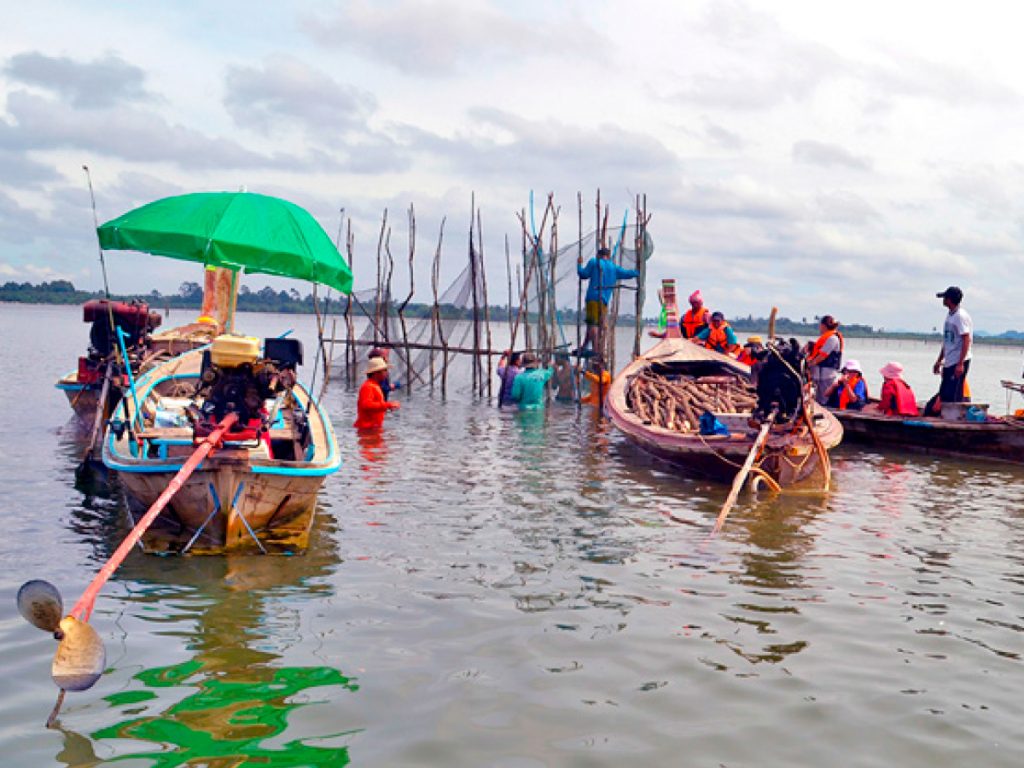 Shells such as 'huay waan' (clams) are highly regarded, and can be found through a mixture of keen observation and simple local, digging tools.
How to Make Shallow-Water Bamboo Stake Traps
Commonly placed around the mouth of the river or in areas of the sea with changing tides, bamboo stake traps are instruments used to catch fish. These are the same type as the cylinder-shaped traps and flat net traps but are immobile.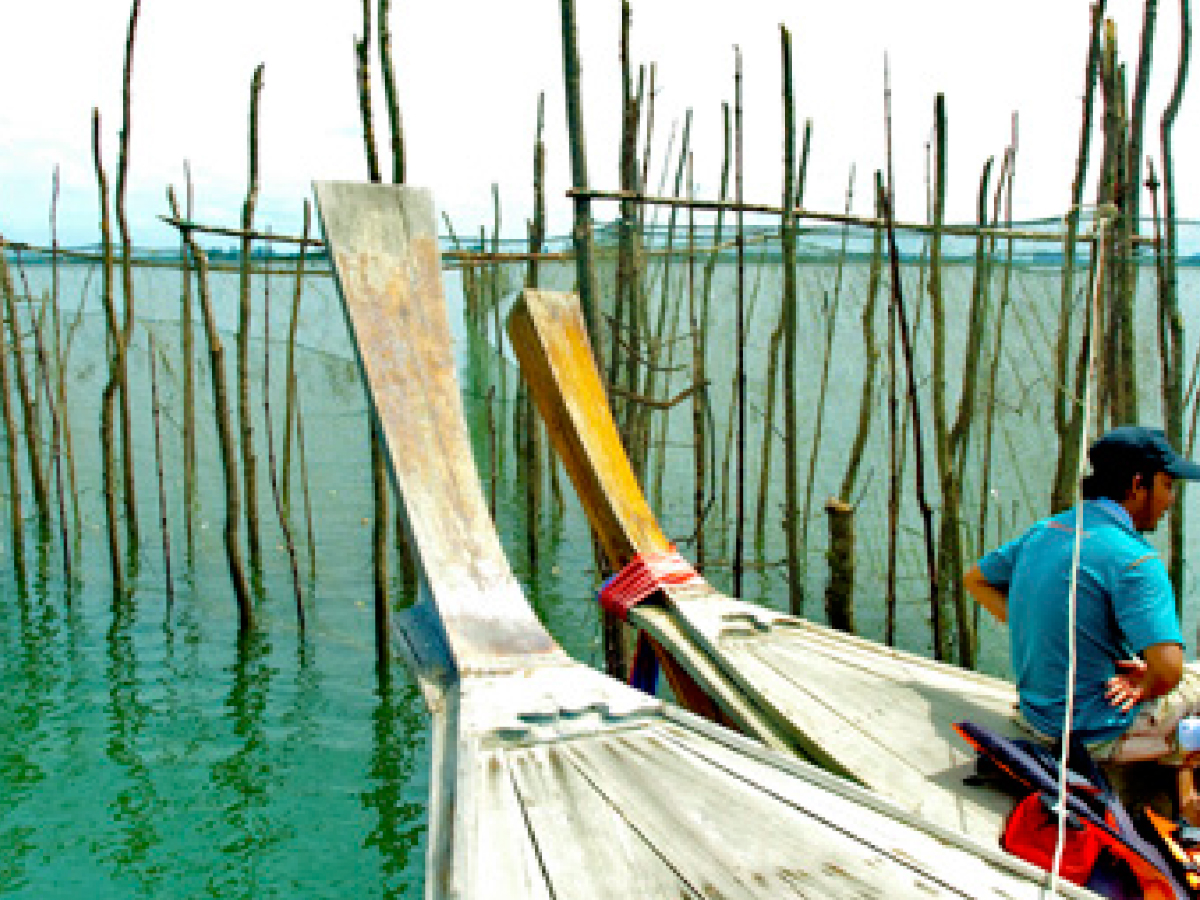 Shallow-Water Bamboo Stake Traps consist of the fenced area to confine the fishes and crustaceans brought in by the tide and 2 wings to let them in. To make the trap, you will need to hammer down several 4-5 meter-long poles vertically into the ocean floor in triangular shape. The distance between each pole should be 50-80 cm apart. Next, fasten the net onto the poles, keeping one side of the trap open to let the catch in. Water level in the trap should not exceed 3 meters.
Catching Method :
The fishermen would collect their catch from the traps during low tide. They would anchor their boats next to the trap and scoop up their catch with a net.
Boats and Equipment :
Fishing boat can be 5-8 meters long with 5-10 horse power engine. Non-motorized paddle boats can also be used.
1 Net to scoop fish
1 Lanter
Commonly Caught Fishes and Crustaceans: Pomfrets, squid. Cavallas, Obtuse Barracudas, Sand Whitings, Ponyfish, Blue Swimmer Crabs, Banana Shrimps. etc.
Travel Season : Throughout the year
Best Time to Visit : December to January when the tide is lowest
---
Clam and Shellfish Digging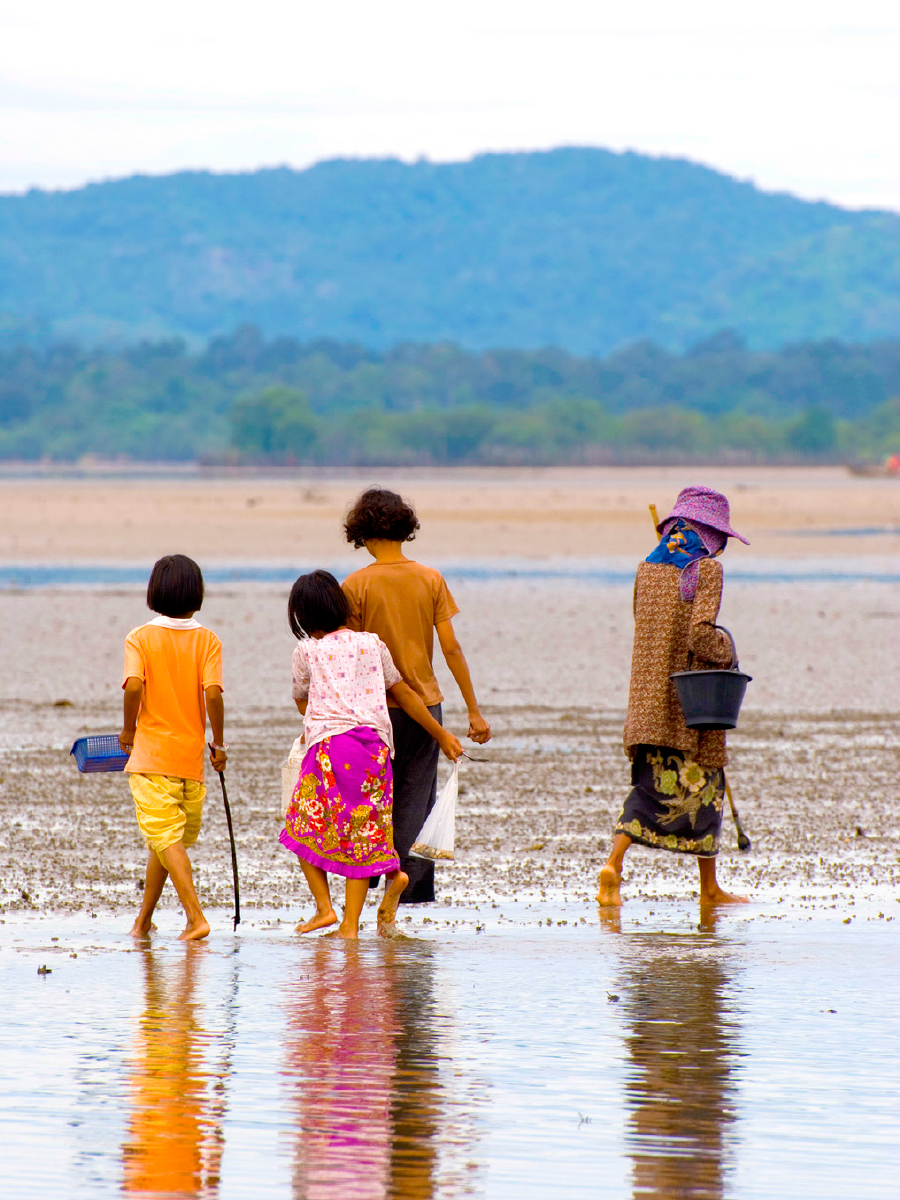 The villagers would come to the beach during low tide to dig for clams and seashells. The most common types found in Koh Klang Village include the Spotted Babylon, Tongue Shell, Scabies, Brackish-water snail, Blood cockle and many more. They told us that it takes different techniques to find each type as they all have different sizes and habits. Some of these clams would be consumed within the family, any excess would be sold in the market. Among the best known menus, you will find the Spotted Babylon cooked in lemongrass soup and Tongue shells stir-fried in thick coconut milk.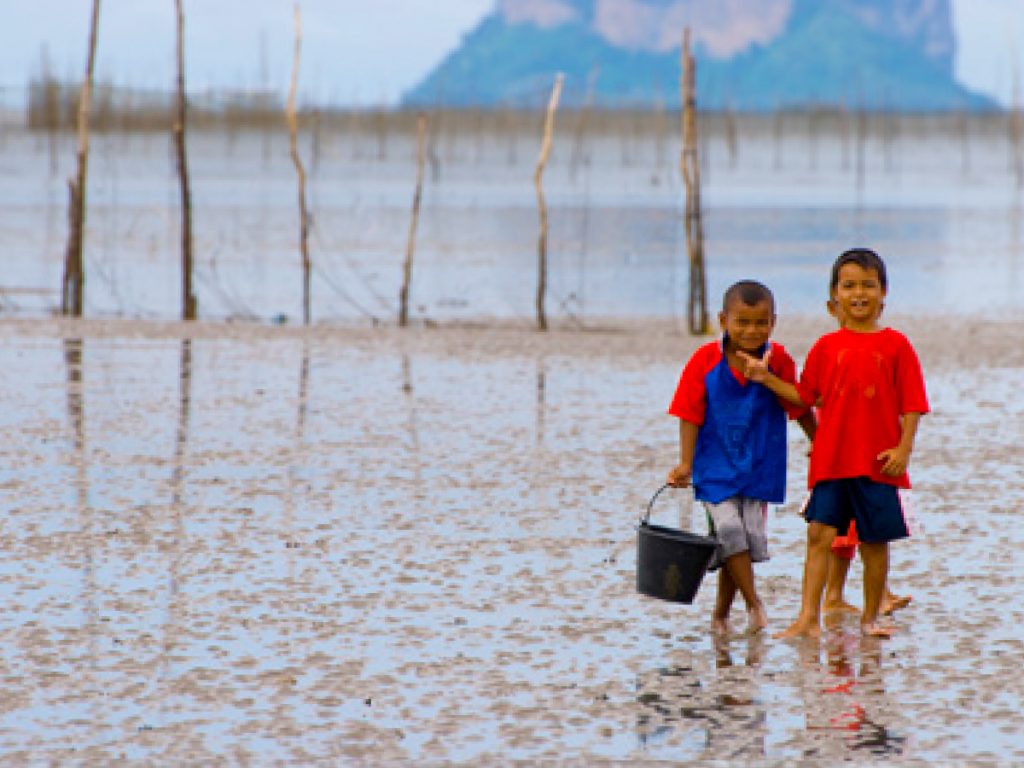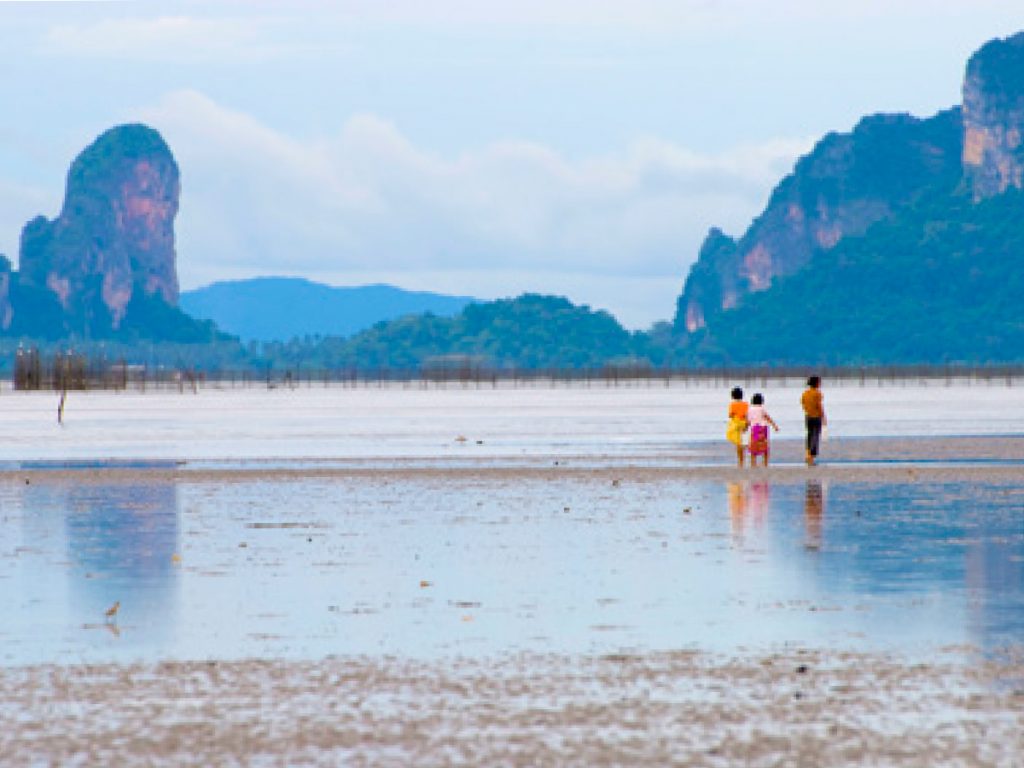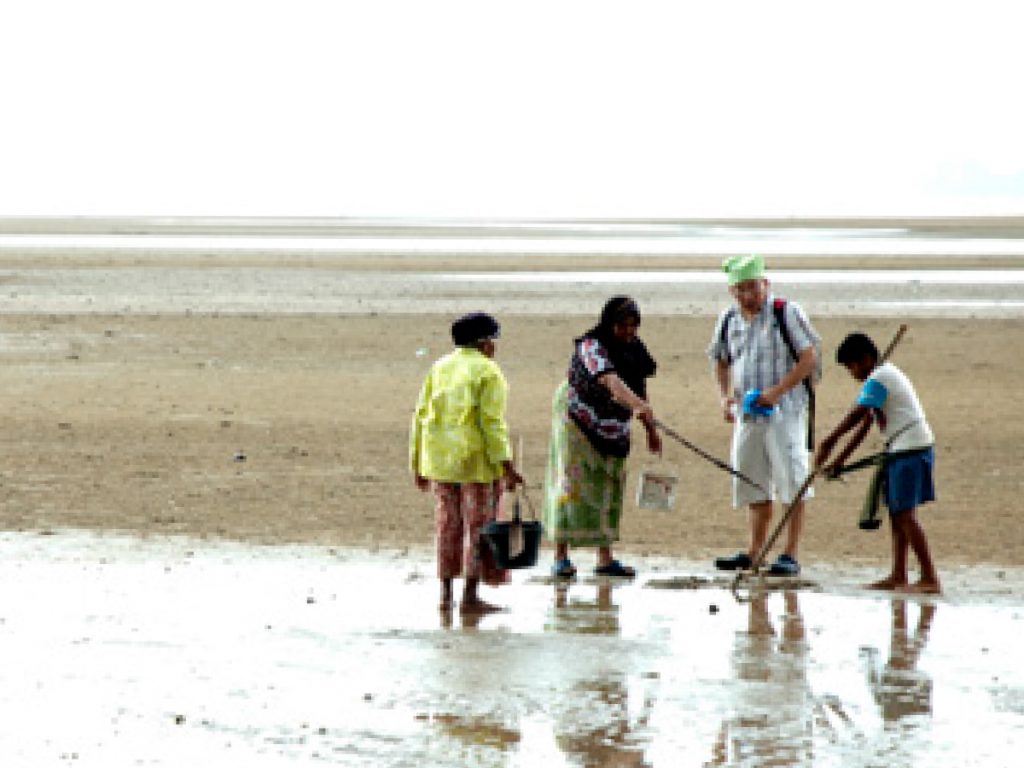 Equipment: Long stick, shovel, rake and bucket
Clam Digging Method:
Seashells:
Equipment:
Method:
Spotted Babylon
– stick
Poke stick into sand and look for air bubbles. If you see bubbles, the shells are likely there so just scoop them up.
– rake
(The villagers often use their feet so they don't have to bend down all the time).
Using the rake, just sweep over the sand surface to find the shells.
Tongue Shells
– Shovel
Look for rectangular shaped holeswhich may also appear as lines. Dig about 8 inches deep into the sand to find the shells.
Scabies
– Shovel
Look for long elliptical shaped holes then use shovel to dig about 5-8 inches into the ground.
Travel season : Year-round
Best time to come : 6-8 am and 5-6:30 pm
The best time to see : Morning, evening and during low tide
---
Koh Klang Rice Farmer's' Group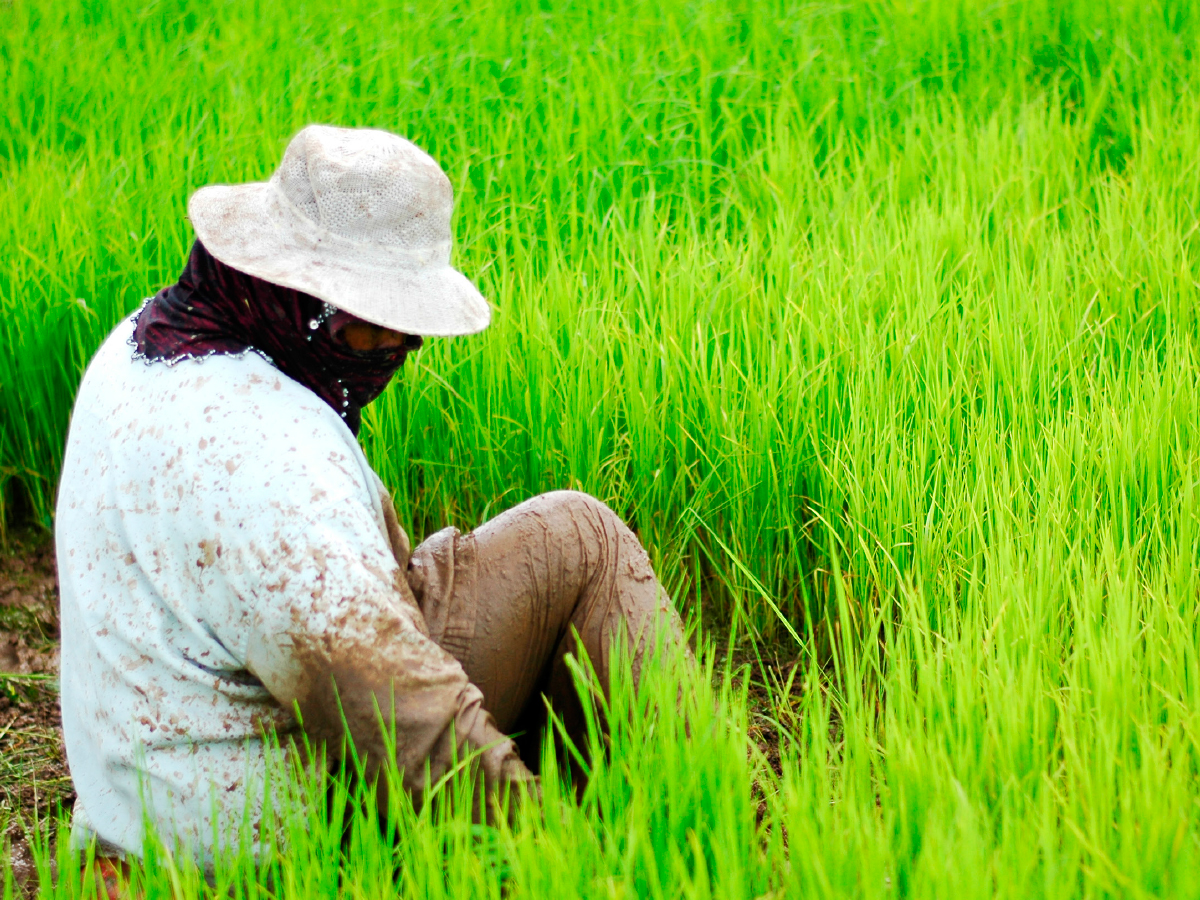 has conserved the practice and the spirit of rice farming. Villagers work together in the fields, side by side, to plant and harvest the 'Sang Yod' rice strain, which is considered to be particularly delicious, due to the balance of fresh and salt water which floods the soil.

Group activities have continually developed, including reclaiming farmland from the sea, helping each other to raise and select premium quality rice grains, practicing and campaigning for organic agriculture, and the annual cycle of rice planting, harvesting and husking at the community rice mill.
Sang yod rice originally comes from Patalung province. High salinity in Koh Klang's soil has created a distinct flavour, compared to the original strain. The tips of sang yod rice grains have a distinctive red glow, full of nutrients! When the rice is cooked, the soft grains stick together, similar to glutinous sticky rice. Traditionally in the area, this rice is served for special guests, or given as a gift.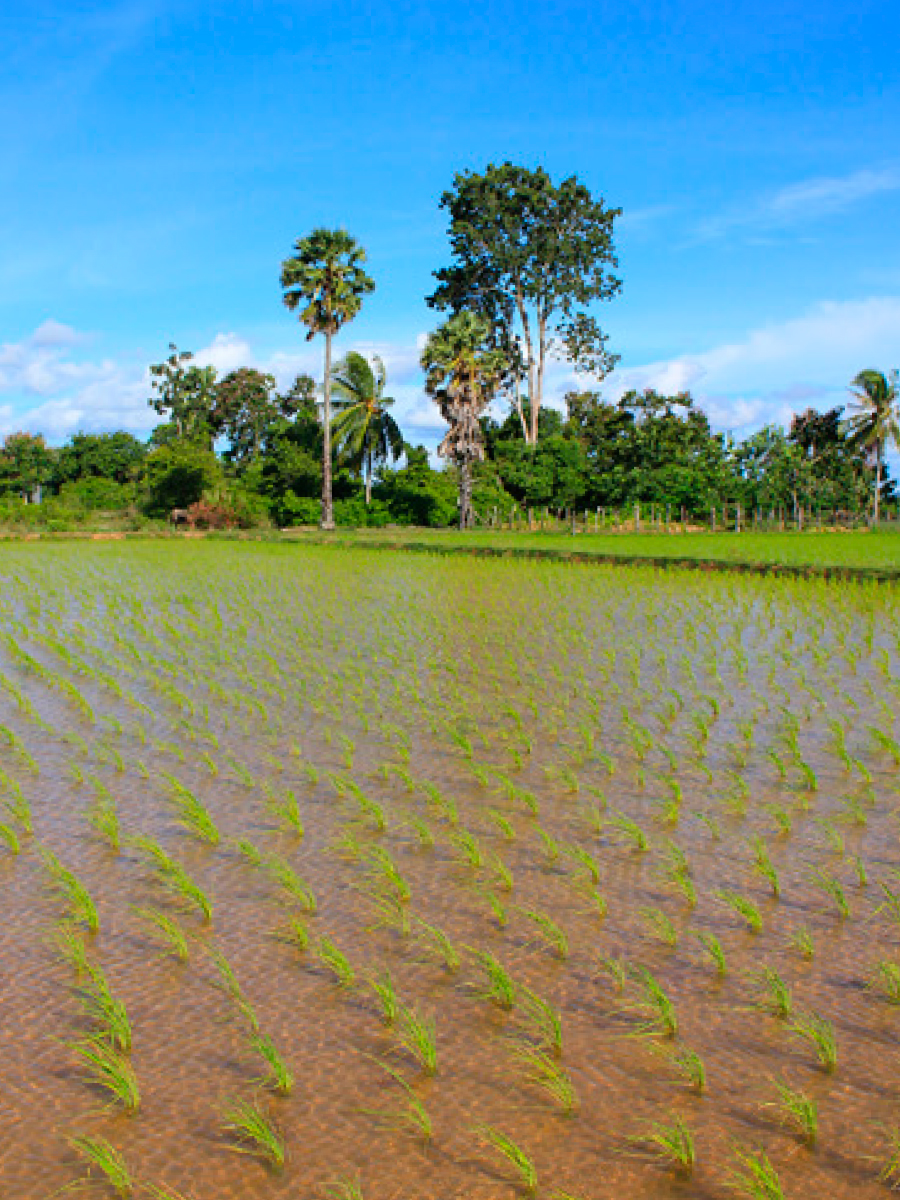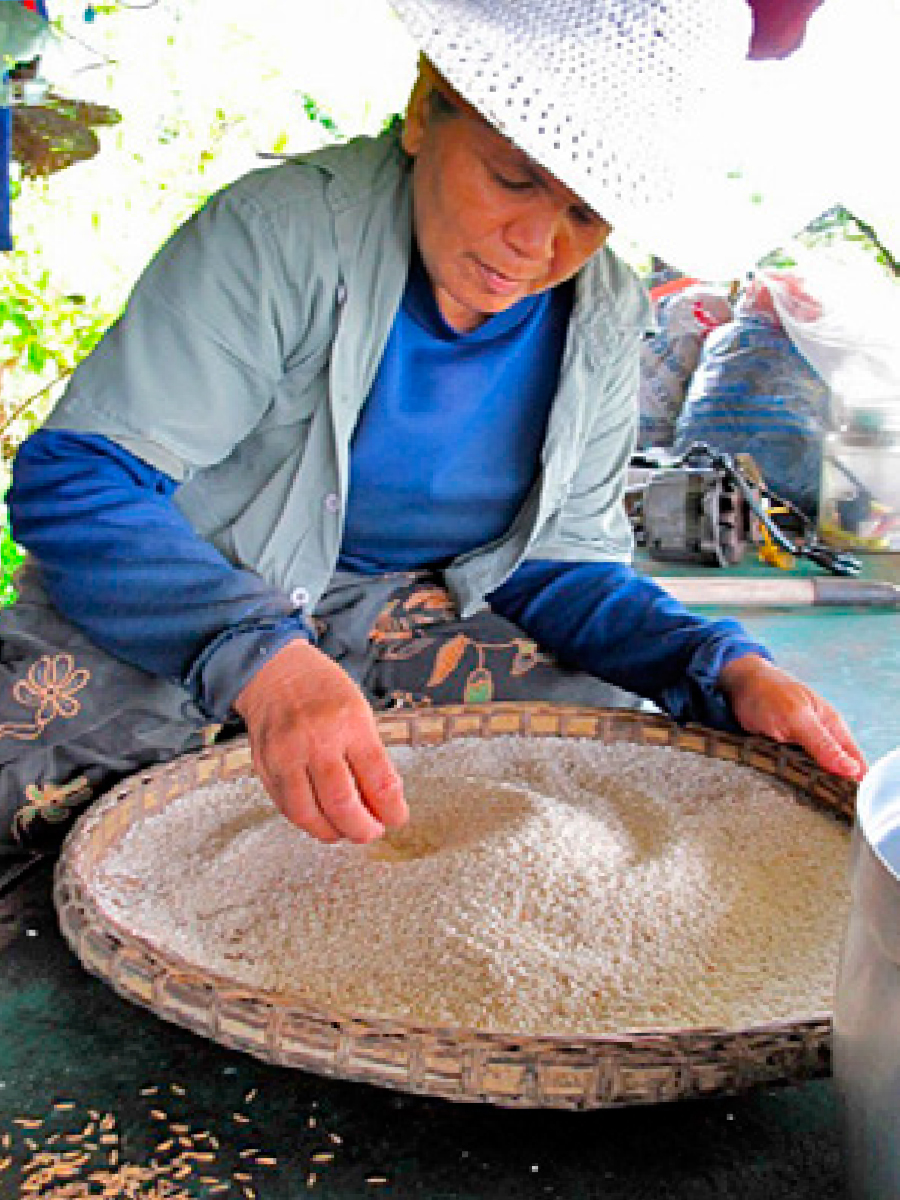 Growing Sang Yod Rice
Sang Yod rice growing is done once a year starting with careful selection of the rice seeds. After they've gone under the germination process, the young rice plants are planted in August and then harvested in December. The villagers would come together to prepare the land, build a wall to keep sea water from flooding in and proceed to plant and harvest the crop. Leftovers like husks and hay are used to make natural fertilizer. They would also form a community store and rice mill for the benefit of everyone in the village.
Travel Period : Year-round
Best Time to Visit : August during the planting season and December for the harvest season The best time to come is from 6am to 9am and 4pm to 6:30 pm
---
The model 'hua tong'
long tailed fishing boat groupLong tailed 'hua tong' fishing boats are a symbol of Krabi, first built in Had Yaow village, Taling Chan sub-district, Nuer Klong district, Krabi province, which neighbors Koh Klang. 'Hua Tong' are relatively small fishing boats, typically only 7 to 10 meters in length, which are used by small-scale fishers to cast bait, lines and nets, and travel up and down the coast. Hua Tong have a distinctive, high bow (front end) which allows these small boats to travel into the open sea, maneuver and remain stable even in strong waves.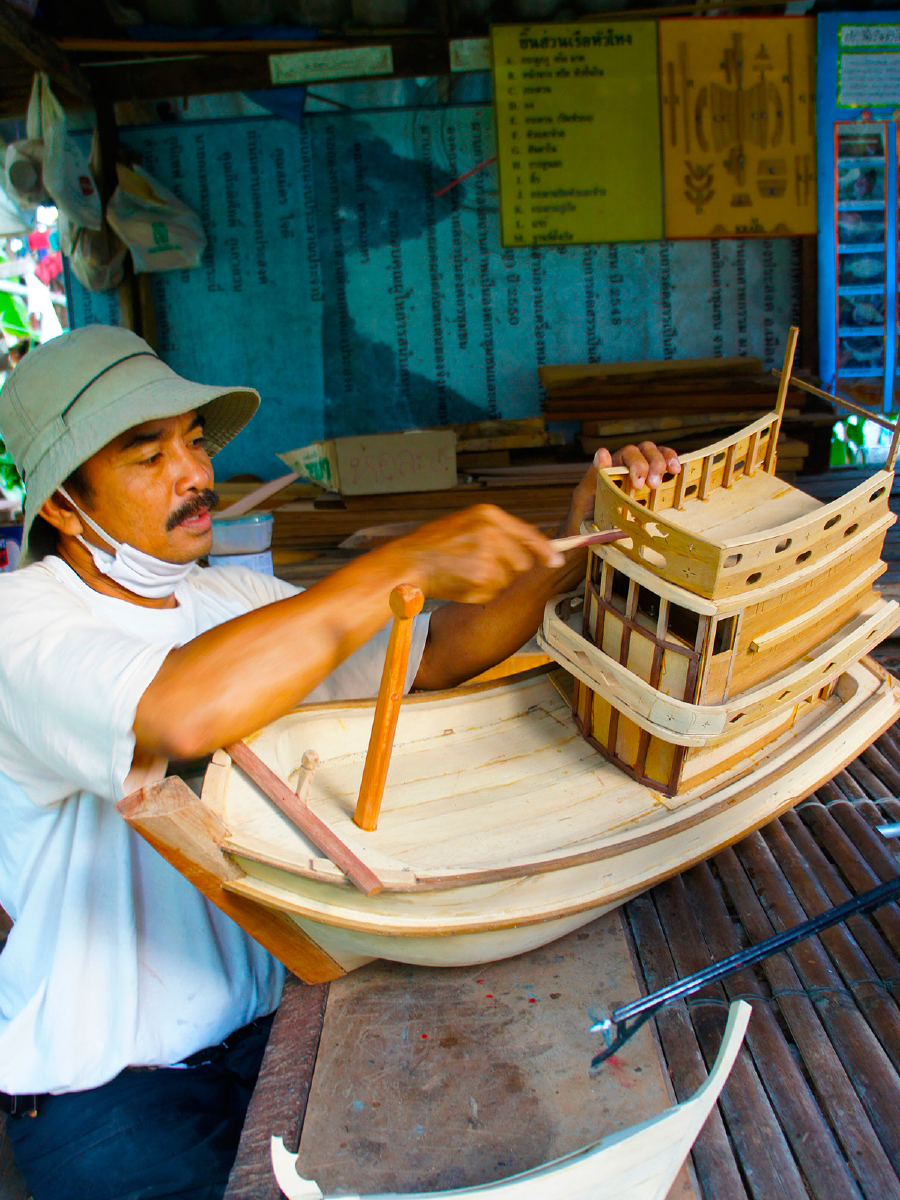 Mr. Madap Manka, a master boat builder for over 50 years, was the first person to make a model Hua Tong boat. In 2002, the governor of Krabi was looking for a unique souvenir to reflect the identity of Krabi province. He suggested model fishing boats, and made an initial order. Mr. Madap Munka and his son, Sombun began producing the boats that year. Government agencies and UNICEF provided additional training for the group members.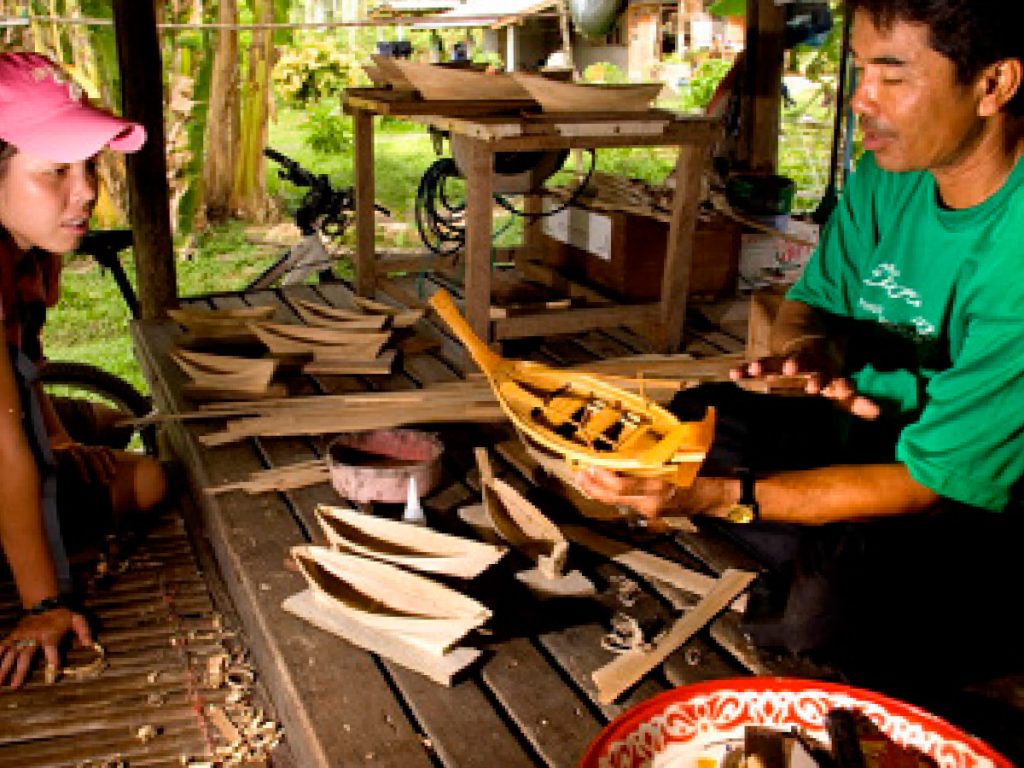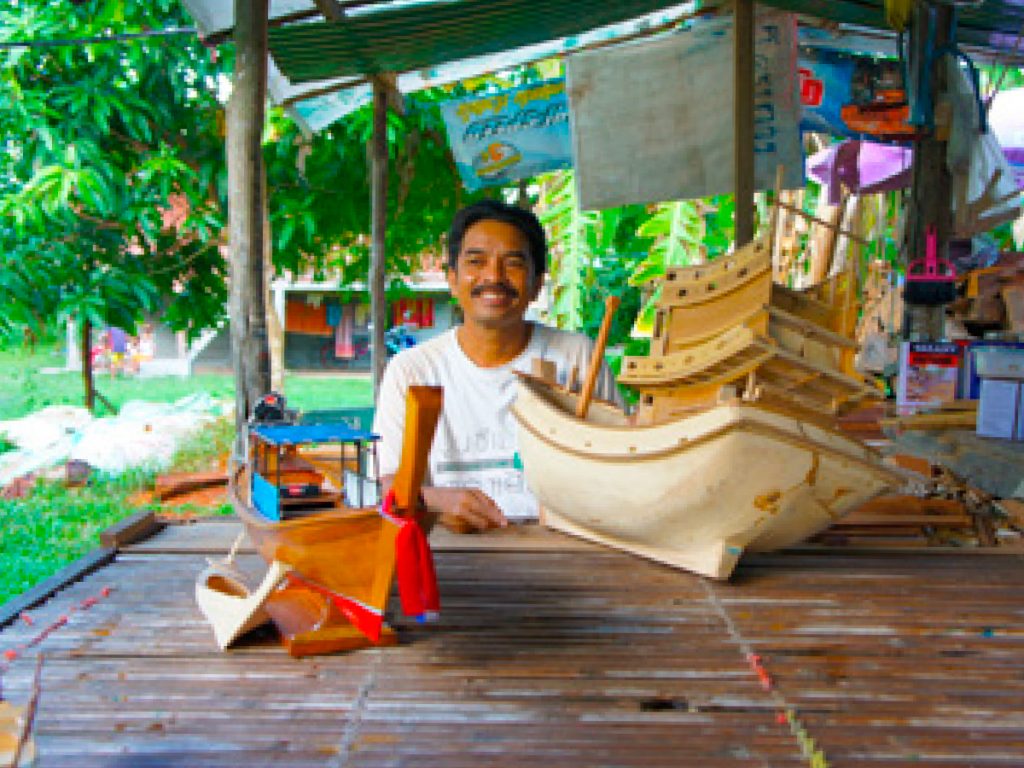 'Rua Hua Tong' are now considered among the very best of Krabi's 4 star OTOP products. Mr. Sombun Manka now leads the model boat group, and is proud to have been able to pass on the local wisdom of boat building to future generations, as well as help local people to earn additional income.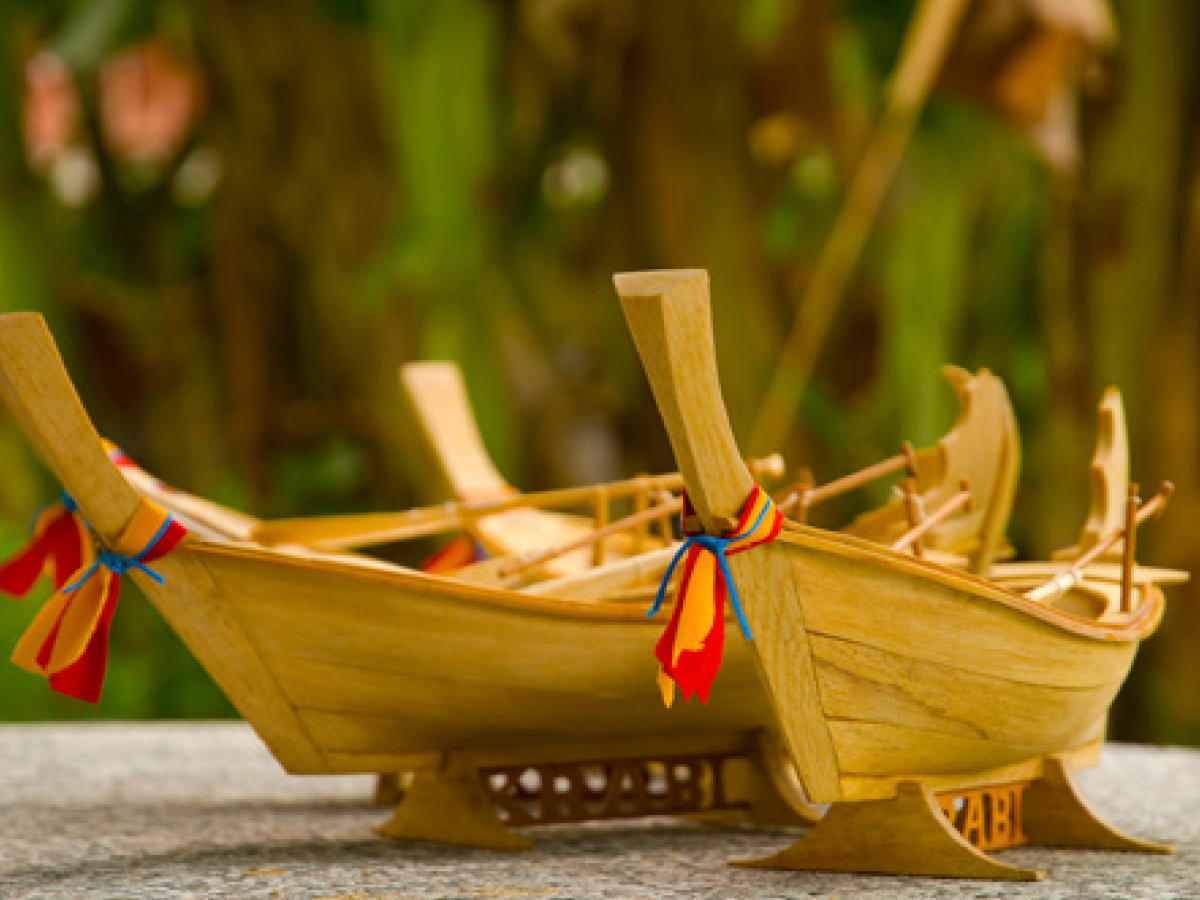 How to Build Traditional Southern Style Paddle Boat Models ( Rue Hua Tong )
Things you will need : Alstonia scholaris wood. For real boats, high quality wood such as iron wood or those from the Dipterocarpaceae family is preferred.
Size : L. 14" x W. 4" x H. 6" (inclusive of base)
Travel Season : Year-round
Best time to come : Demonstrations and DIY tutorials are available all day.
---
Patae Textiles Group
The Koh Klang Patae group was founded in 2002, by Prajim Lekdum. Due to her Malay ancestory, Prajim became interested to learn about Patae textiles. Following a study tour to Naratiwat province, she established the Koh Klang Patae group which now has over 30 members, managed by a committee. The group provides an important income source, in addition to fishing.
The groups eye-catching and unusual 'Katik' designs are printed onto plain white cloth, with hot wax, using a heavy Patae stamp. Additional decoration is then added by hand with a Batik candle. Colours are painted into the cloth by hand. Designs are a mixture of traditional and inspired adaptation!
Lifetime president of the group, Prajim, reminds her team regularly that "the most important thing to put into our designs is heart," including an inspiring fusion of creativity, cheerful enthusiasm, discipline and eye for detail, which are essential when keeping focused on every stamp, and stroke of the brush. This effort has earned Prajim's group a name as a top place to study Patae!
How to Make Batik Cloth
Things you will need: White cloth, metal mold with internal and external designs, candles, ink/ dye, wooden frame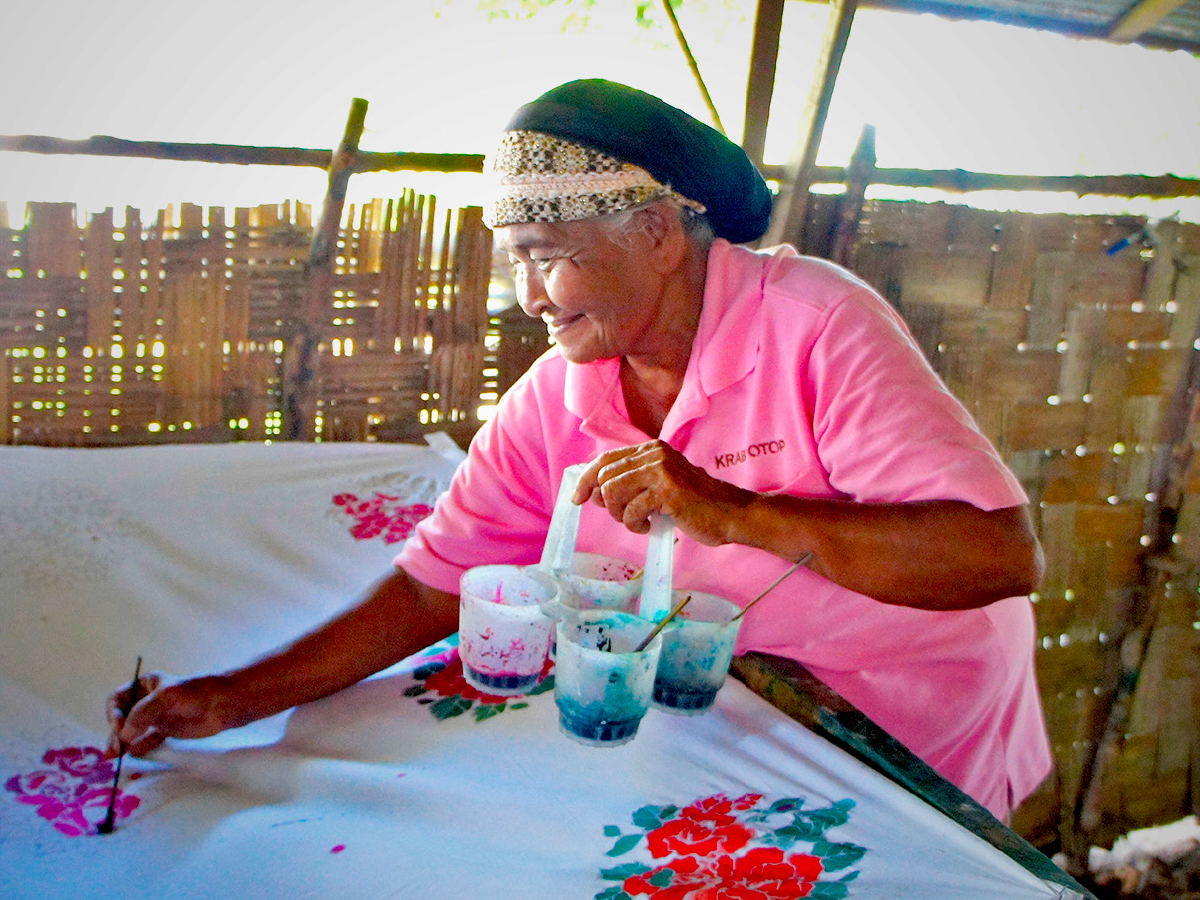 5 Steps to follow:
On a table, spread a sheet of white cloth on top of another sheet of wet white cloth.
Melt the candles to be used for creating your design. Make sure the candles are thoroughly melted otherwise it might not seep through the back of the cloth.
Create your design by dipping metal moldin to hot wax then pressing it down on the cloth.
Spread and fasten cloth tightly on all four corners with nails onto wooden frame. Paint colors according to the design and let dry. Seal out colors by dipping metal mold onto hot wax to protect parts of the cloth you don't want colored before continuing with other colors.
Soak the cloth in color dye, take out,and then let drip before submerging the cloth in brine. Next, bring cloth to a boil to melt the wax. Rinse cloth in plain water then soak in color enhancer fluid for about an hour. Rinse again, leave to dry then iron before packaging.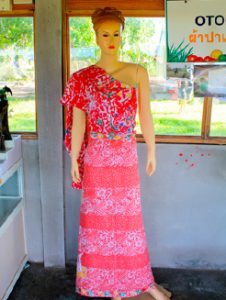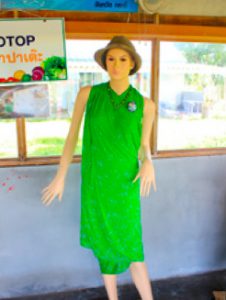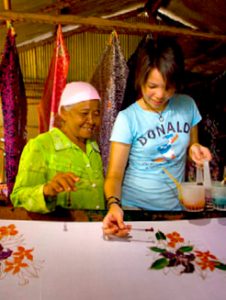 Duration for Production : 2 days
If you wish to try, you can do the metal mold part and painting which takes only 1-2 hours.
Products Manufactured by the Group : sarongs, shawls, scarfs and handkerchiefs
Travel Season : Year-round
Best Time : Demonstrations and DIY tutorials are available all day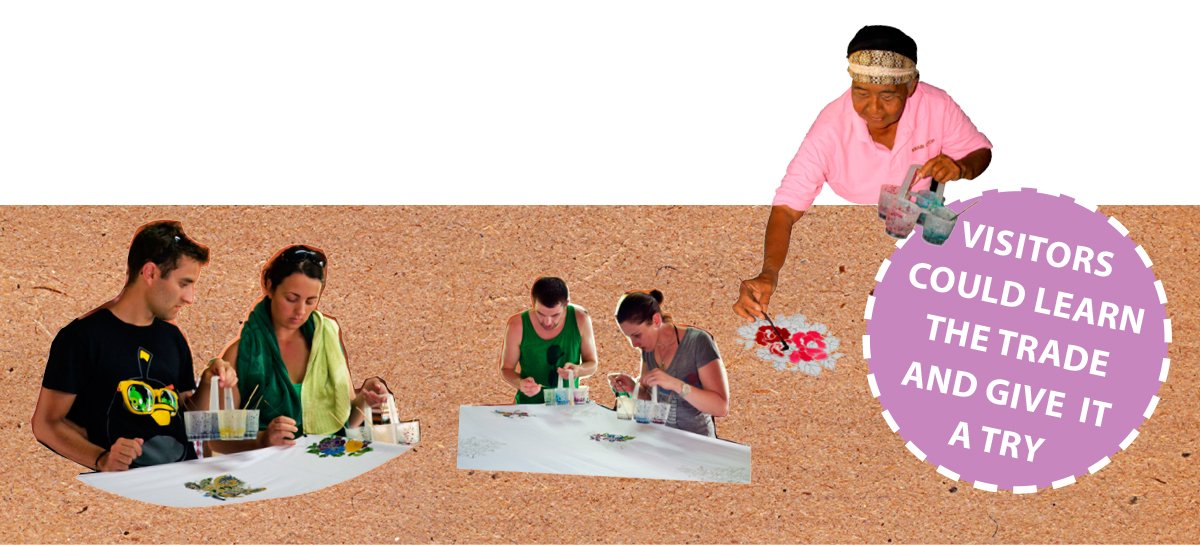 ---
Special Recommendations
Kayaking Along the Mangrove Forest
The mangrove forest of Koh Klang is located at the mouth of Krabi River and is considered the 1,100th most important wetland in the world. It covers a total are of 100,000 rais from Krabi, Koh Klang, all the way to Sri Bo Ya Island and is truly an interesting eco attraction.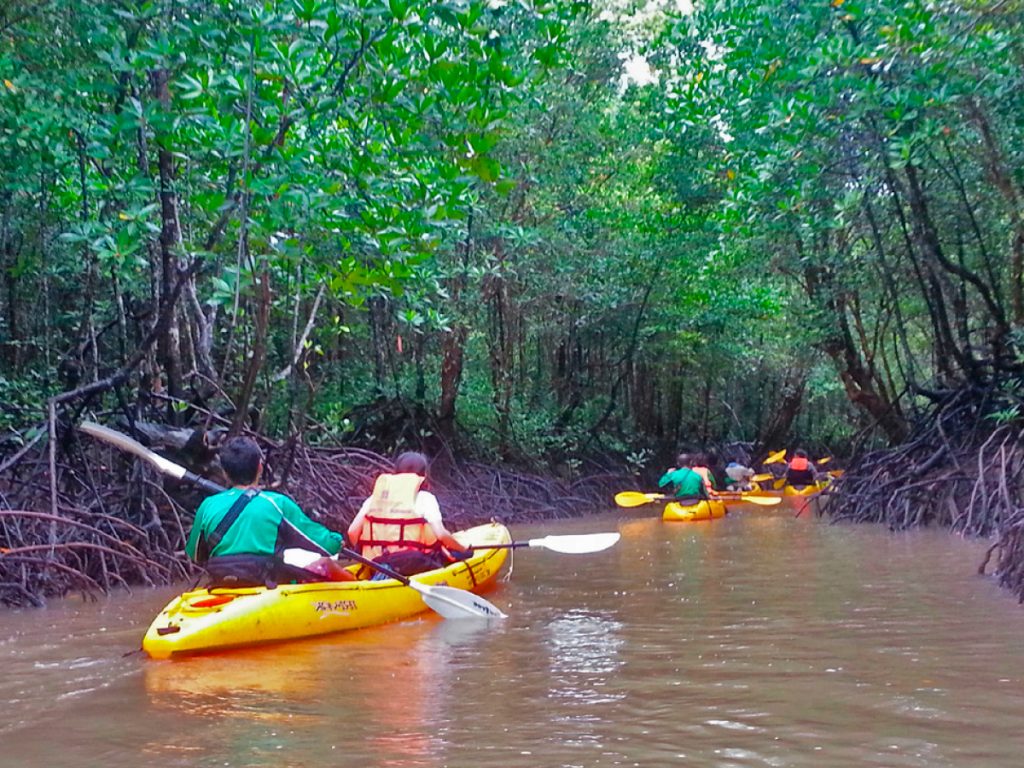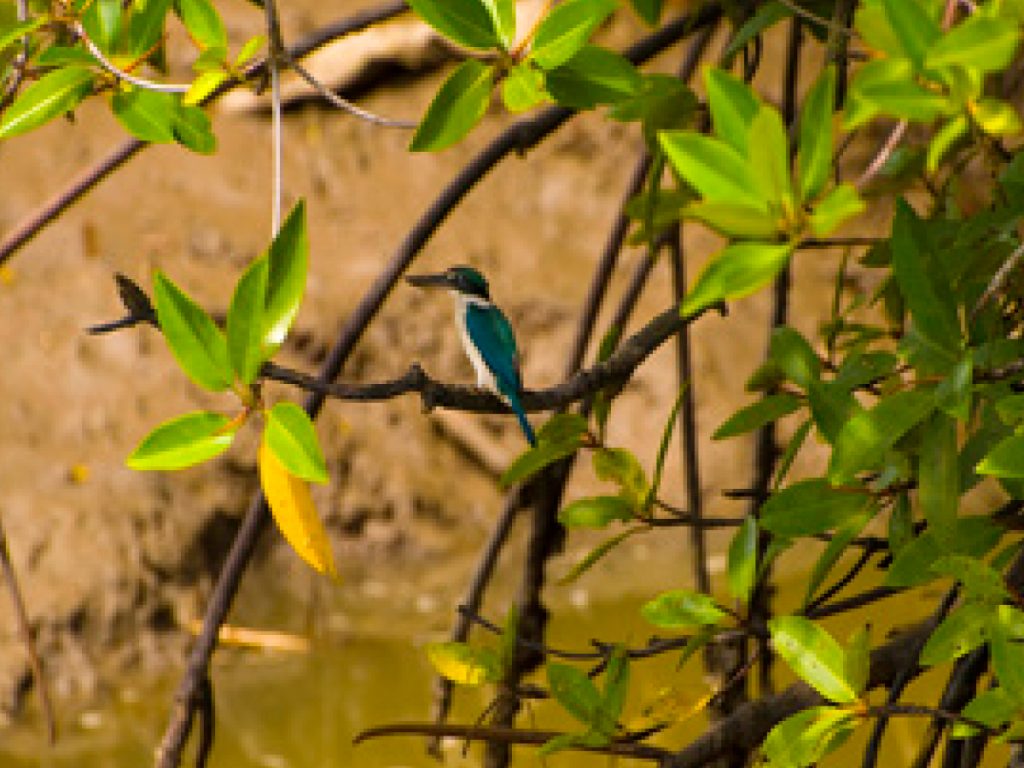 Commonly found plant species in the mangrove forest : Rhizophora mucronata, Rhizophora apiculata, Red Avicennia, White Avicennia and Xyiocarpus
Commonly found animal species : Fiddler crab, Giant mud crab, Barramundi, Mud skipper, Crab-eating macaque, Water monitor, Little egret, Little cormorant, Red-backed sea eagle and other migrating birds
Recommended routes : Klong Lad San, Klong Lad Yao, Klong Lad Thongbai, Klong Lad Tha Hin, Klong Lad Bng Kanoon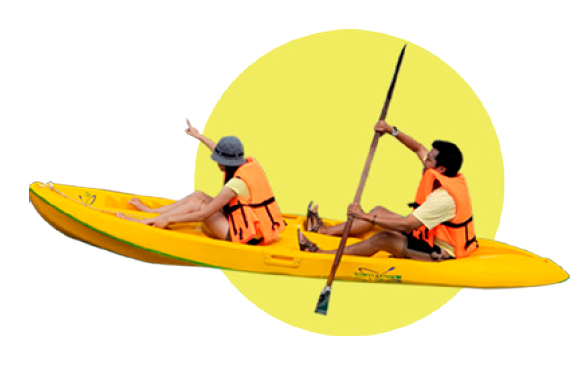 Getting there :
Visitors can hire a tour boat to the mangrove forest at Khao Kanab Naam, Koh Klang up to Baan Taling Chan. Long-tailed boats are found at Chao Fah Pier or Tha Hin Pier. For kayaks, these are available for hire at Tha Hin and Khao Kanab Naam Piers. For rental of a whole boat, the rate is from 500 to 1,000 baht per hour.
Travel season : Year-round
The best time to visit : 6 am – 9 am and 3 pm – 5 pm
---
Code of Conduct
Koh Klang villagers warmly welcome guest to learn and share their culture and way of life. They also help request guest to help them to protect their precious local culture, through a few simple steps.
Please do not bring alcohol, drugs or other intoxicating substances onto Koh Klang.
Please do not show intimacy in public.
Please dress modestly. Ladies please wear T-shirts and shorts around knee length, rather than bikinis tanktops, singlets or short shorts while exploring Koh Klang.
Please do not bring pork onto Koh Klang.
Please do not bring dogs onto Koh Klang.