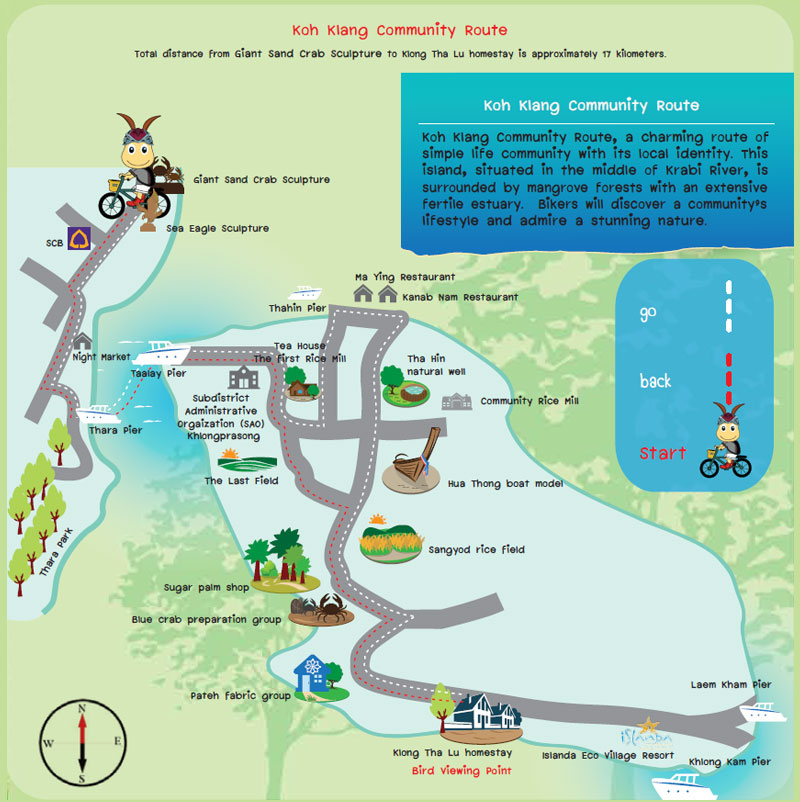 Total distance from Giant Sand Crab Sculpture to Klong Tha Lu homestay is approximately 17 kilometers.
Koh Klang Community Route, a charming route of simple life community with its local identity. This island, situated in the middle of Krabi River, is surrounded by mangrove forests with an extensive fertile estuary. Bikers will discover a community's lifestyle and admire a stunning nature.
Attractions :
1. Local villager's morning lifestyle / First rice-mill
Visitors will experience local villager's daily lifestyle in the morning at local tea cafe where peoples, mostly men, come to socialize before going to work. Behind this cafe, there is a first rice-mill in Koh Klang which still regularly operates rice-milling.
2. Tha Hin natural well
Tha Hin well is considered as a blood vessel which nourishes Muslims here. Villagers feel thankful to this sacred well which is always filled with clear water in every season and never parched.
3. Hua Thong boat model
In former times until present, Koh Klang villagers have been using Hua Thong boat (a local long-tailed boat) for fishery and travel. Visitors will discover a history and a construction process of Hua Thong boat, a symbol of Krabi province.
4. Sangyod rice field
Rice field in Koh Klang is widely expanded and mostly filled with Sangyod rice originated from Pattalung province. Because of fertile soil and water, Sangyod rice in Koh Klang has a good taste and it's a famous souvenir among visitors.
5. Sugar palm shop
From the middle to the end of the year, before rice harvest season in Koh Klang, visitors will have a chance to taste delicious sugar palms. Their freshness and natural sweet taste will extinguish all fatigue and thirsty.
6. Blue crab preparation group
Villagers here live with fishery for long time. For those who come to Koh Klang, they should join an unseen and exceptional activity, blue crab preparation. After boat landing, fishery housewives prepare to take crab meat out of shell. This activity happens throughout the year except during monsoon. Crab lovers should not miss!
7. Pateh fabric group
Pateh (Batik) fabric group is inspired by idea and method from Pattani province. The Pateh fabrication in Koh Klang is unique due to an outstanding design and colour with a combination of Malaysian Pateh method and Batik fabrication. Tourists are always welcomed to visit and learn how to make Pateh.
8. Klong Tha Lu homestay
For the bikers who desire to spend the night here, Klong Tha Lu homestay is our recommendation. You will feel comfortable with private and calm beach and feel enjoyable with clam digging on the beach.