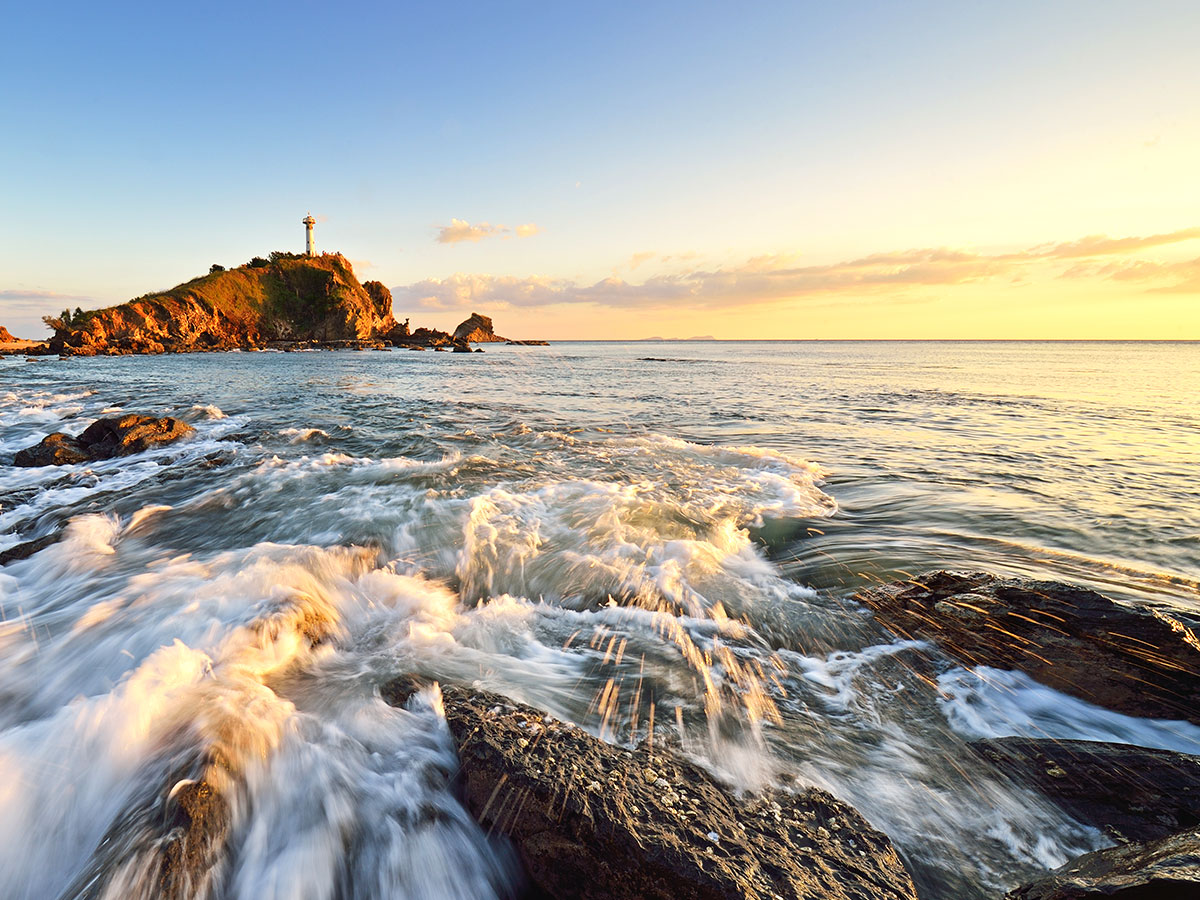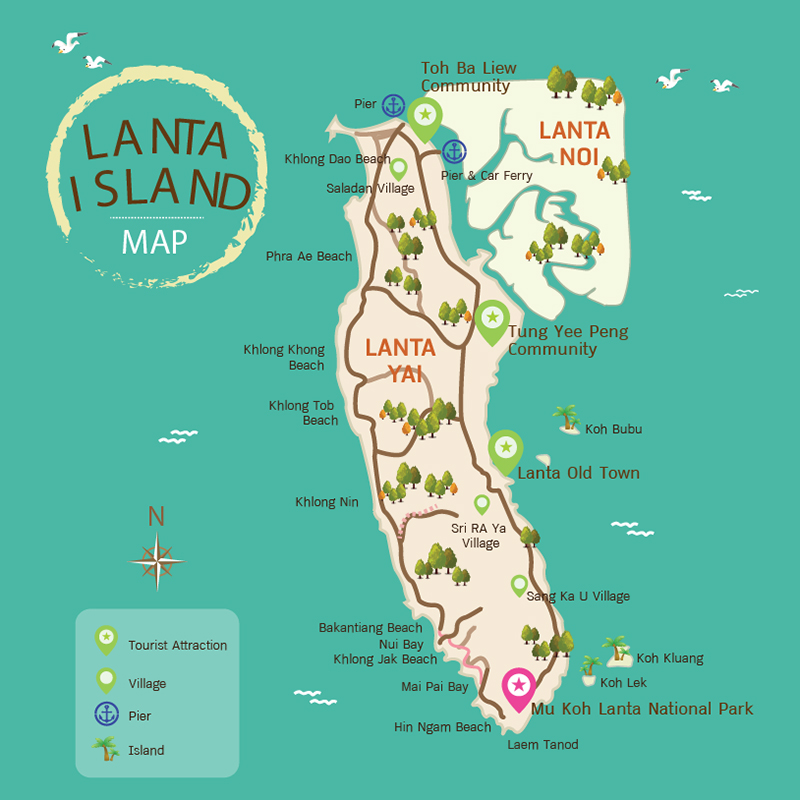 Lanta is a large island in the Andaman Sea where quiet, spacious beaches and beautiful dive sites are found. The east coast is home to many smaller islands that lie in its embrace; and it is here which fascinating stories of its people originate from. The culture, which is a harmonious blend of sea gypsies, Muslims and Chinese, with different traditions and background, somehow find their place here where they live together as one. Anyone who has visited will agree that Lanta has more to offer than nice beaches as its charm also lies in the indigenous people.
Good to Know
Lanta Lantus Lantas Lonta Luntudsu Pulaosatok is the real name of Lanta Island. Lanta, which means 'Lots to See' came from the countless seashells on the beach seen by fishermen as they approached the island from afar. Lantus and Lantas are Malay words means 'fish grill'. Lonta is another form of Malay language meaning 'the poor' which may refer to the poor fishermen of Urak Lawoi (the first settlers of the island). Luntusu is the name which the ancient Chinese merchants called the island with its rows of mountain. Pulao Satok offers the same meaning in Sea Gypsy language.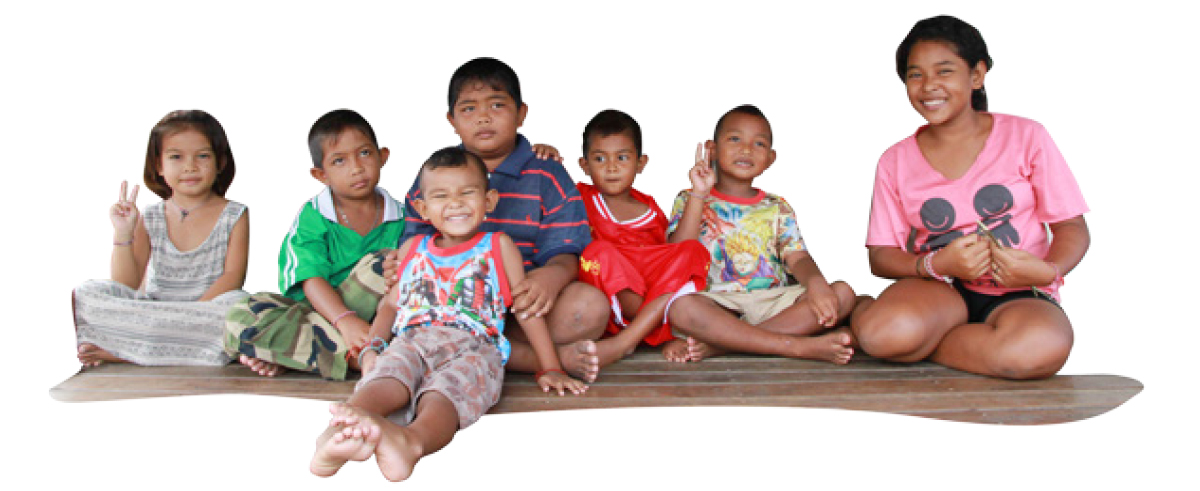 Toh Ba Liew Community
Just a few steps from Baan Saladan Pier, you will see the entrance to a bridge decorated with bamboo and colorful cloth. This bridge leads to the seaside mangrove forest which also happens to be the entrance of Toh Ba Liew Village. This not-so-ordinary bridge links together the road and the village, and city dwellers and sea people. Before reaching the entrance, you will see 'the protector tree'as villagers believe in ghosts of their ancestors. The word 'Toh' means teacher, wizard or the elderly with supernatural abilities. After their deaths, their statues would be created for people to respect. There are 35 families living here and Mr. Onne, a Toh Ba liew local told us that his people call themselves 'Sea Gypsies' and 'New Thais' is the name given by the royal family. Uraklawoie is a name of their native language which is also understood among those from Indonesia and Myanmar. Even Indonesian tourists who visited were able to communicate with the villagers in their own language.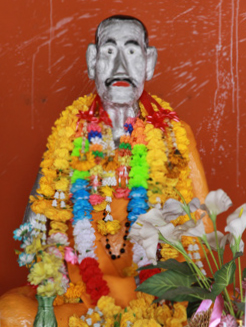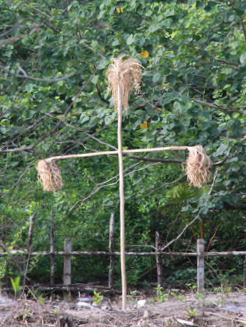 Mr. Onne politely continued to show us around and educated us on the difference between a squid trap and crab trap. Walking along, we noticed a group of women picking fish from the net, some men painting theboat, a few elderly burning wood to make coal, the children running around happily while the village wizard was inspecting his freshly caught crabs and a bucket of small rays. We were also taught a few local words like hello 'A Ge Ta Ngung Yu Ma' and 'Have you eaten?' would be 'Magan Nasi?'..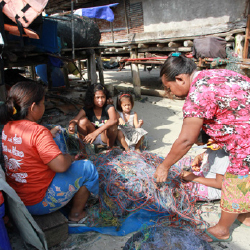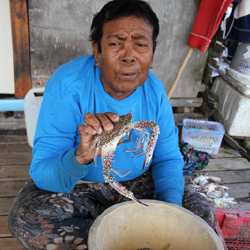 Good to Know
HRH The late Princess Mother had bestowed the sea gypsies the name, 'New Thais' and gave out five last names which are Pramongkij, Hantalay, Talayluk, Chaonam andChangnam. The sea people of Phuket took Pramongkij while two names went to Lanta Island- Talayluk for Sanga-U villagers and Changnam for Toh Baliew, Nairai and Klongdao villagers.
Tell The Story
The Pajak 'Boat Floating Ceremony' of the sea gypsies is done to rid the village of evil. They would build a 'Pajak Boat' loaded with offerings to the ancestor ghosts in exchange for their protection. This ceremony is held twice a year; once at the end of summer towards the rainy season ( 15th night of the 6th month) and again at the end of the rainy season towards summer (15th night of 11th month). The village's wizard would lead the ceremony with the first day involving boat building and prayers for forgiveness. On the second day, the boat building will be completed in the afternoon and carried out to the center of the village from there; at night, it will undergo a ritual. On the morning of the third day, it is placed in the water where the tide would carry it far into the sea and never to return to the village. During mid day, sticks of wooden charms would be stuck to the ground all around the village to protect its inhabitants. This ceremony is considered sacred by the sea gypsies and those living elsewhere would even return home to participate in the ocassion.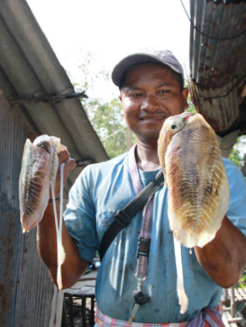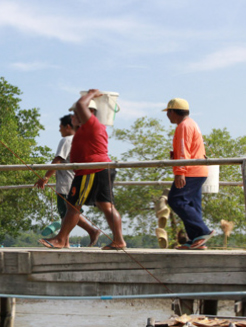 Must Try
1 Day Sight-seeing Sea Gypsy style to different attractions (food and drinks included) See the sunset at Laem Talor, visit Jum Island, Mah Island and Pida Rock, boat ride around Lanta Island, Bubu Island, Talabeng Island
Mud fishing (half day) guided by a local sea gypsy.
For more information : Khun Diew of Toh Ba Liew
Tel. 089 727 6802
---
Lanta Old Town
Arrivng in Sriraya Community, we were overwhelmed by a sense of nostalgia. This may have to do with the precious two-storey Sino-Portuguese buildings on both sides of the street with connected corridors on the first floor. The structures are built from wood, unlike those found in Phuket and Tagua Pa. An outstanding attraction here is the Museum of Lanta that once served as the town hall. Uncle Songtham Thepsriboonya, the museum staff, showed us the simple but elegant interior which dates back 100 years.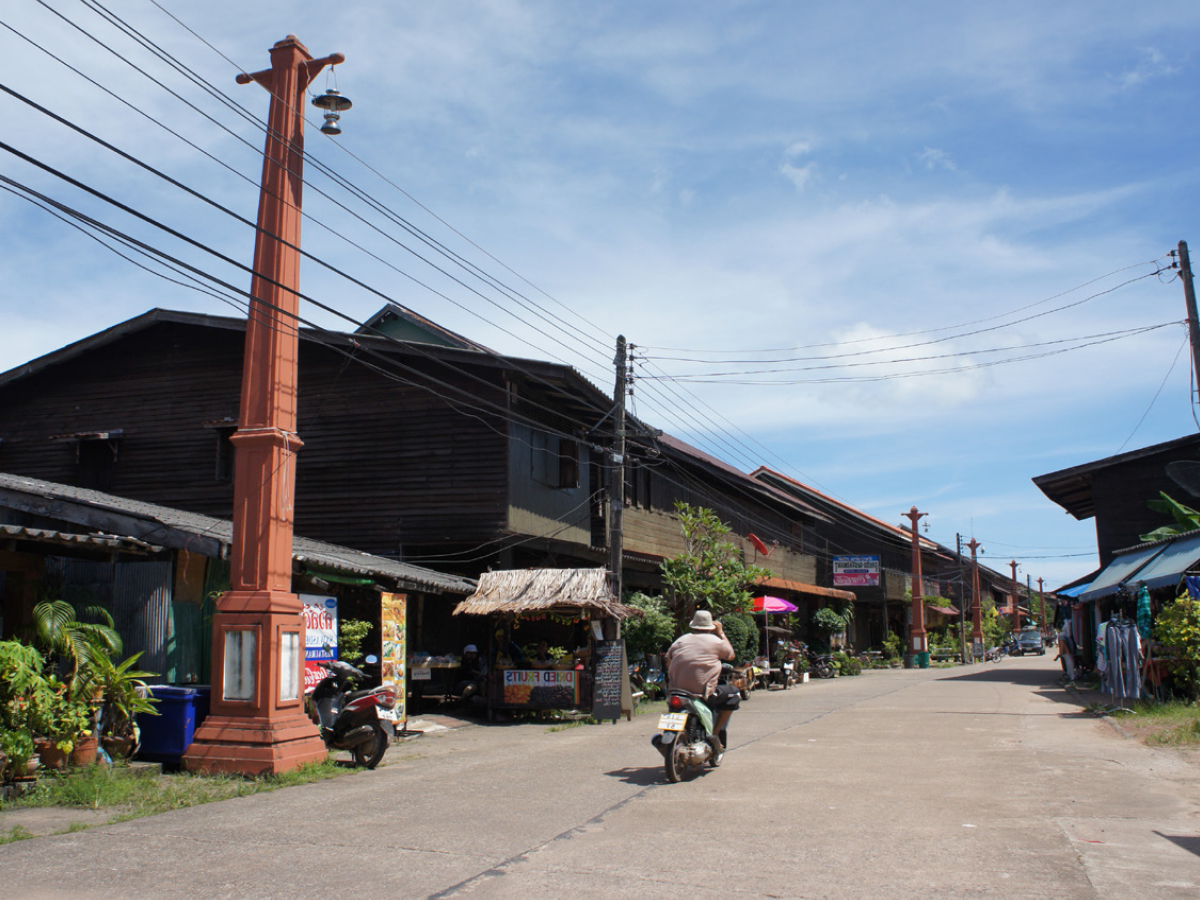 The two storey building is divided into exhibition areas of the Chinese, Malay and Sea Gypsy inhabitants, how they came to be and the days when coal trading among the Chinese, Penang, Indonesians and Singaporeans flourished.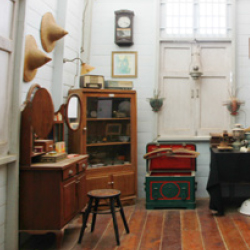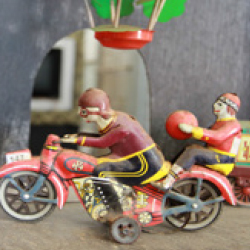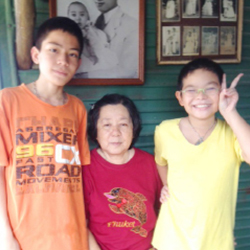 Museum is opened Monday – Friday , 8:30-16:30 hrs.
For more information : Tel. 093-6381419
Tell The Story
Most of the citizens living here are from Chinese origins. We stopped to talk to the sixty-year-old Mrs. Suree Uthairat, owner of a houseturned-restaurant who kept the interior the way a typical Chinese home looked. The warm atmosphere can be felt as the place is filled with grand children visiting for summer holiday. Beside the corridor,is an old ice storage room used to keep fish back in the days. Mrs. Suree told us that her father boarded the ship that carried coal and rice from mainland China and settle down here. One day when she was 4 years old, there was a fire in the area but luckily, her home was unharmed. Today, this area belongs to the Thai government but can be legally inhabited by native people.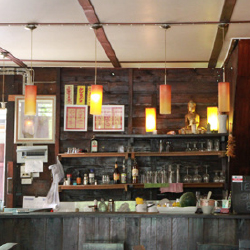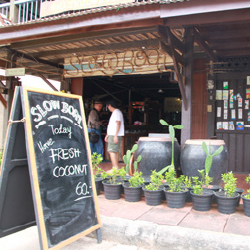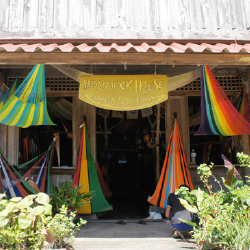 Must Try
On both sides of the streets in Lanta Old Town, you can find small but charming guesthouses, cafes, galleries, restaurants and souvenir shops that offer nostalgic setting in a seaside environment. Spending a night here is definitely fun to try.
Guesthouses
The Old Time : Tel. 092-8783718
www.theoldtownlanta.com
Mango House : Tel. 086-9486836
Food and Beverages
Malee Malee : Tel. 084-4439581
Shine Talay : Tel. 084-4438581
Aunty Sri ,Lanta Yai Kitchen, Fresh
---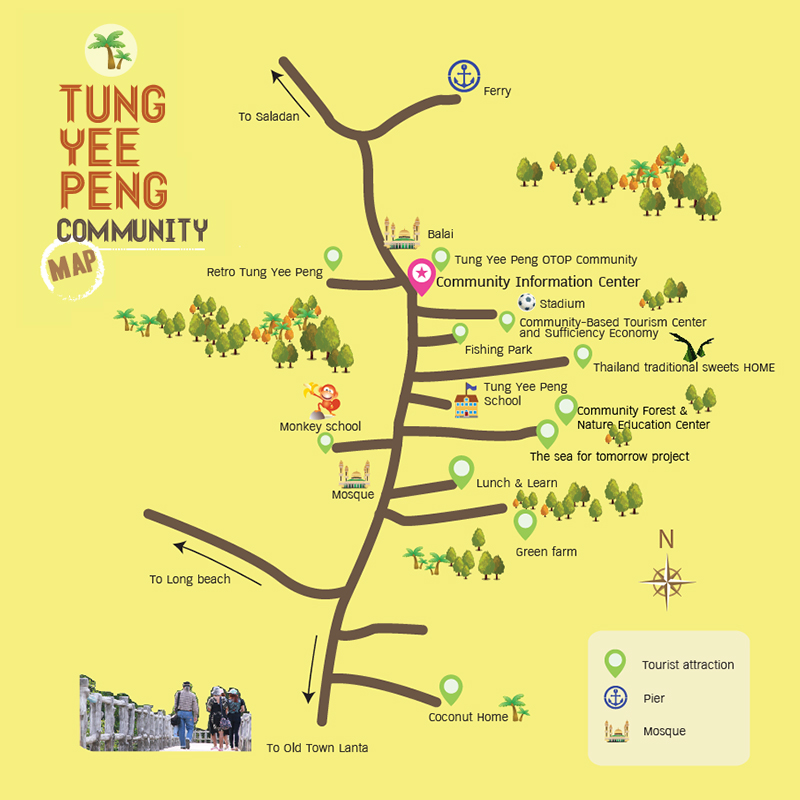 Baan Tung Yee Peng Community
A village located next to the mangrove forest and sea water canal leading to the mouth of Lanta Bay where local villagers live alongside beautiful nature full of natural resources which have become their lifeline is known as Baan Tung Yeepeng. "When the forest and number of local villagers dwindle because of tourism, we must use tourism to get them back" were the words of Mr. Nut, Narathon Hongthong as he explains his strategy in handling tourism in 2013. At the time, he started out with a crew of 15, which has now grown to 105.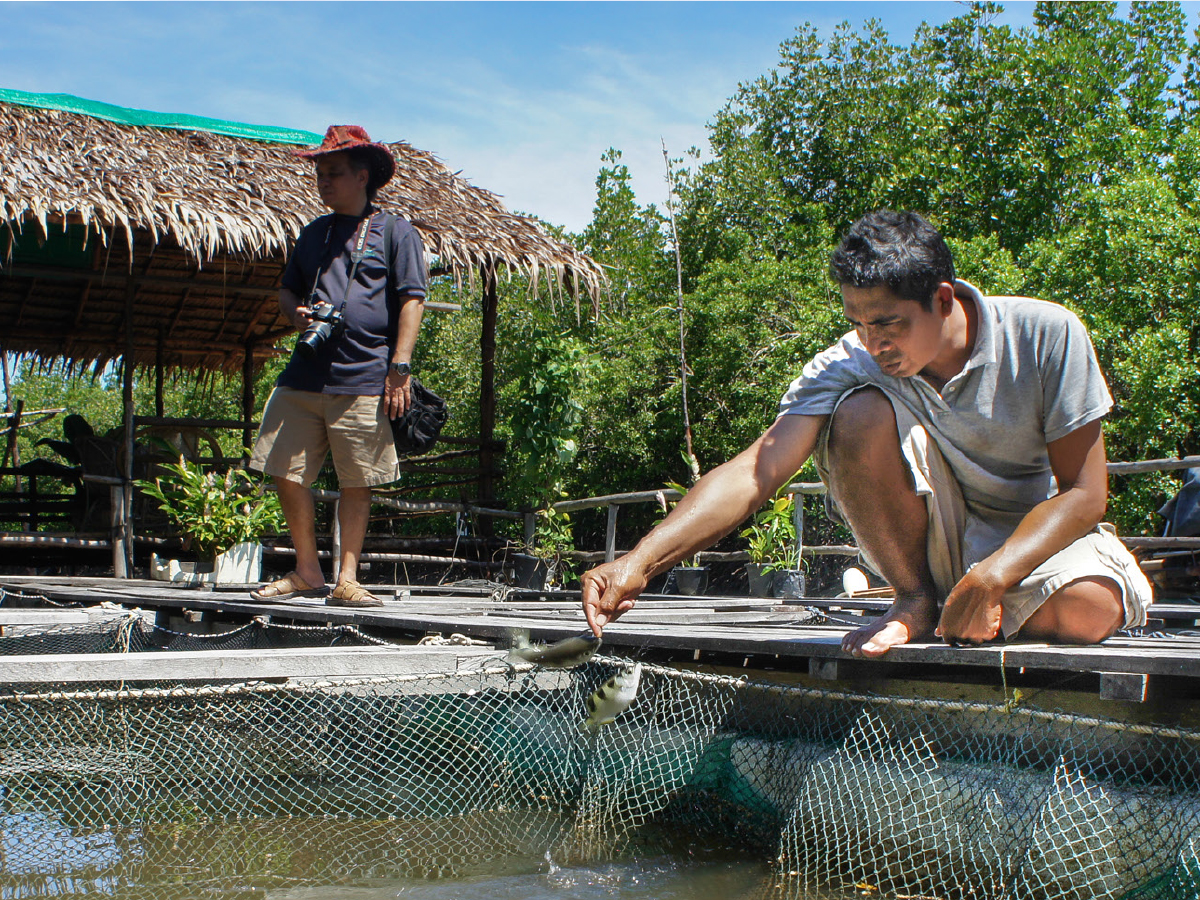 This place is one of Krabi's tourism village prototypes that has evolved into a 'Green Village'. Activities are formed around the simple yet interesting attractions in this Lanta Island community, which ideally coincides with Tung Yeepeng's way of life of the past, present and future.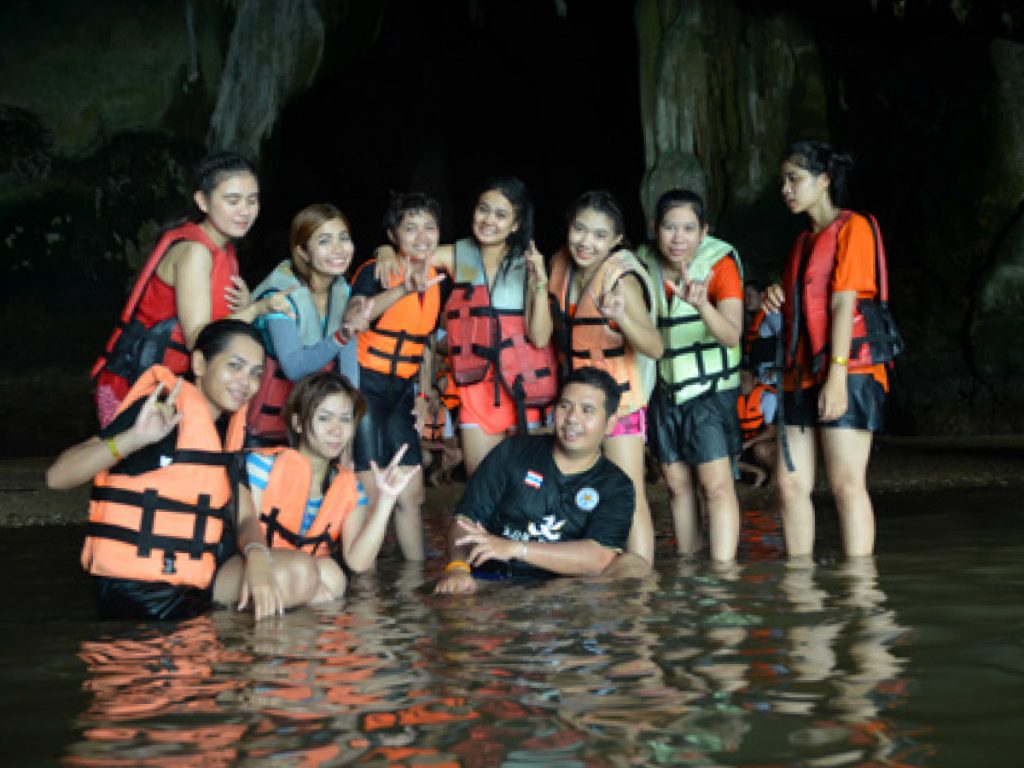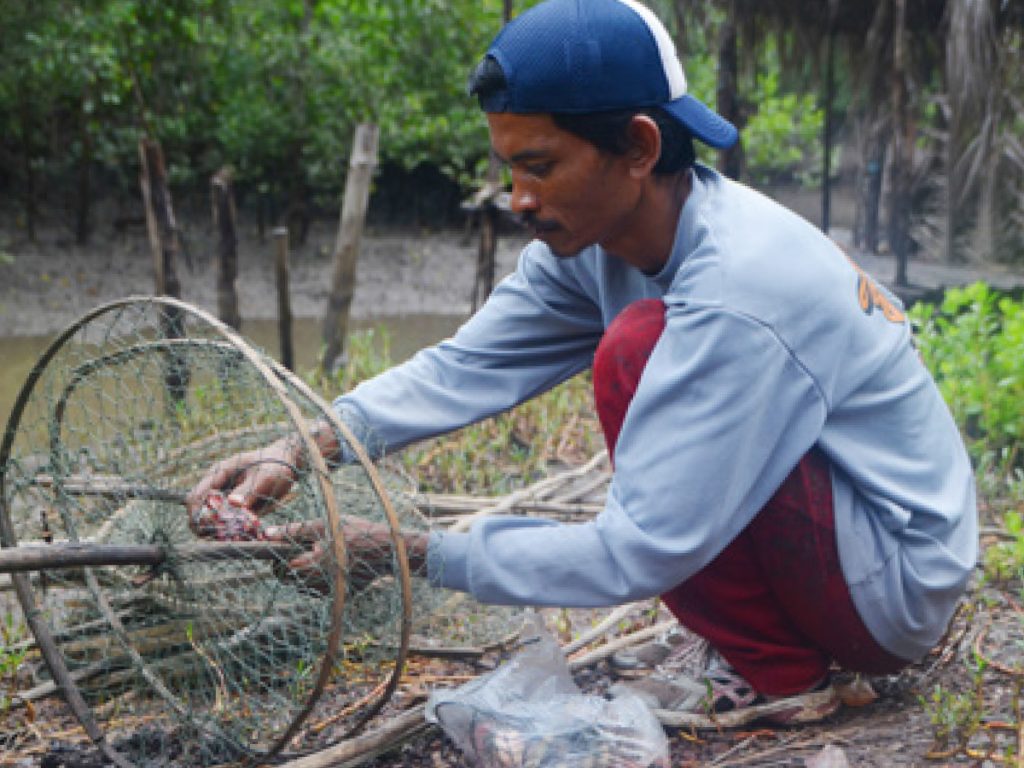 Activities Must Try
"A Visit to Tung Yee Peng, Village on an Island"
takes you to the mangrove forest and lets you learn about the lives of men who cut trees to make coal, watch sea eagles, taste spicy organic local food, visit the monkey school (1 day program)
"The Sea for Tomorrow Project"
The project involving implementing homes for the fish and growing sea grass.
"Baan Tung Yeepeng, A Happy Way of Life"
lets you take a peek into the happy lives of people in the community through the eyes of visitors. The program takes on an interesting name of "Drama of the Islanders" with 3 day/2 night program and 2 day/1 night program.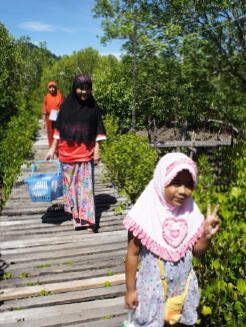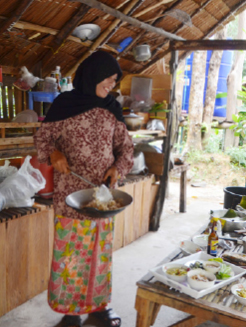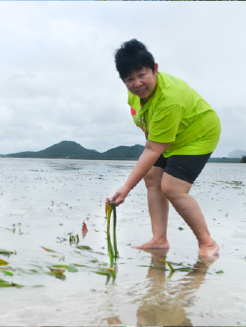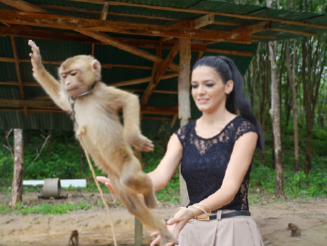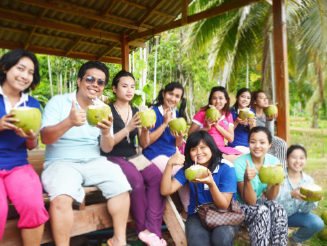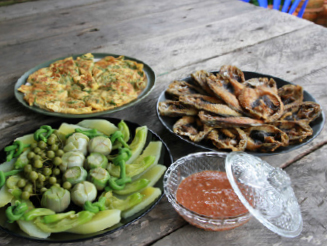 For more information
Khun Narathon Hongthong Tel.089-5909173, Coordinator of community activities or Khun Nopadol Thammawat Tel.0824154380.
Tell The Story
Mr. Ball, Mr. Somsak Tohlang's favorite student at the Monkey School for Conservation, seems to be very talented but still, he's just a novice at a tender age of six. There are twenty monkeys in this school and their main job is to pluck coconuts from the trees and acting. They are taught from the age of three and will remain a student of the school for another five years. Mr. Ball is considered very out-going and friendly with visitors.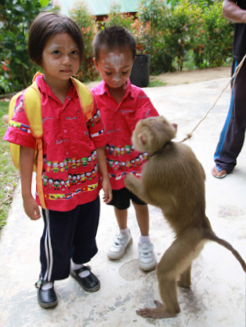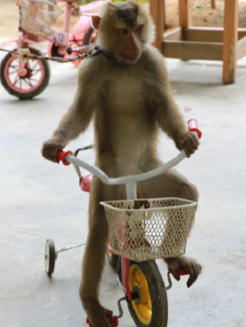 Must Try
"Baan Gaeng Som' makes the best Gaeng Som", says uncle Madda Sawaengphol or Bang Mad. In Thung Yeepeng Community, there are contests to find the best cooks for selected menus, like Uncle Mud's home makes the best Gaeng Som while another household which makes great Thai dessert would be chosen to make dessert for tourists. Uncle Mad informed us proudly while gesturing for us to try for ourselves. Ingredients are taken from the backyard and the sea so you can be sure how fresh they are.
Rules to follow while in community
Dress appropriately
Alcohol is prohibited
Pork consumption is prohibited
Don't make loud noise during community prayers
Be respectful of traditions and way of life in the community