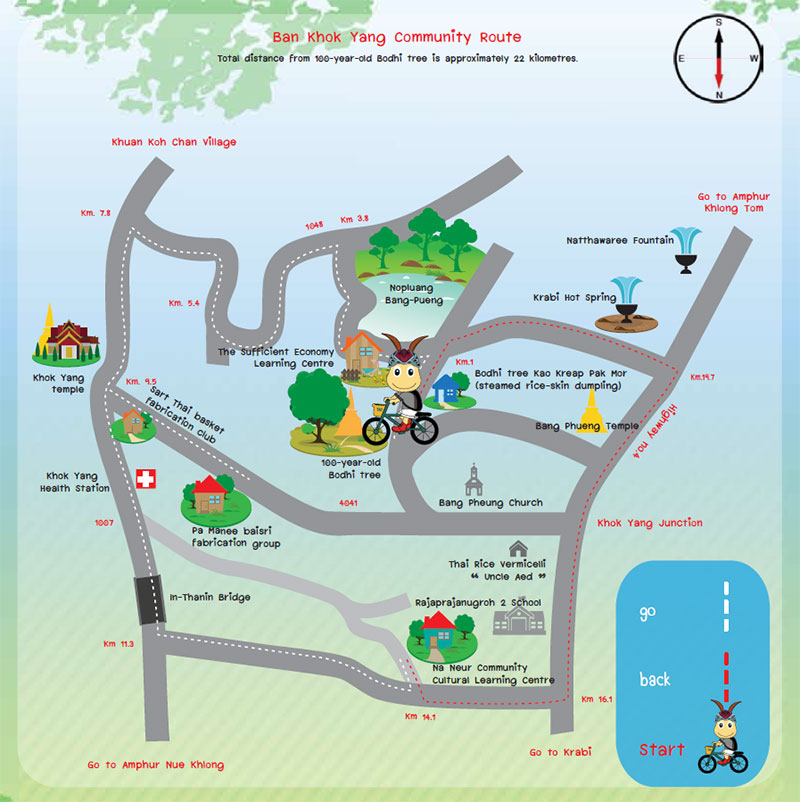 Total distance from 100-year-old Bodhi tree is approximately 22 kilometres.
Ban Khok Yang Community Route in Nuea Klong district gives you a chance to learn about Ban Khok Yang and Ban Bang Pheung community's unique lifestyle such as their intellectual arts from skilful local craftsman or their simple living based on the Sufficient Economy, a philosophy developed by King Bhumibol Adulyadej (King Rama 9) of Thailand. This activity is a must for all visitors who have a chance to come here.
Attractions :
1. 100-year-old Bodhi tree
The starting point is at the 100-year-old Bodhi tree in which villagers believe that there are sacred spirits protecting them. For bikers, this 100-year-old Bodhi tree is a comfortable place for relaxation during a ride.
Remark – Parking for pick-up truck is available in this area.
2. Bodhi tree Kao Kreap Pak Mor (Steamed rice-skin dumping)
There is a famous shop of steamed rice-skin dumpling located opposite the 100-year-old Bodhi tree. We recommend all visitors to try this Thai dessert made with traditional recipe from Trang province. The shop is opened every Tuesday to Sunday.
3. The Sufficient Economy Learning Centre
This learning centre will give you an experience of Sufficient Economy Agriculture such as oyster mushroom cultivation, duck grazing farming and organic agriculture.
*Sufficient Economy Philosophy is the Royal Initiative of the "Philosophy of Sufficiency Economy" Sufficient Economy is a philosophy based on the fundamental principle of Thai culture. It is a method of development based on moderation, prudence, and social immunity, one that uses knowledge and virtue as guidelines in living. Significantly, there must be intelligence and perseverance which will lead to real happiness in leading one's life.
4. Khok Yang temple
Khok Yang temple is a center of mind for Bang Nam Pheung peoples. When arriving at the temple in the morning, visitors will see many peoples bringing food packed in tiffin to make a merit here. It would be great if you can join this precious moment.
*Pinto is a Thai Style food carrier. It is a stack of cylindrical vessels, strung one above another by metalstrips which also from a handle, used for carrying food, sometimes called by Europeans in the East a tiffin carrier.
5. Sart Thai basket fabrication club
Visitors will discover a fabrication process of baskets for Sart Thai, a long and unique traditional Thai mid-year festival.
*Jard Wan Sard in October or "Sat Thai",originally an animistic harvest festival, with later incorporation of Buddhist traditions
6. Pa Manee baisri fabrication group
This group presents a fabrication of Baisri (a conical arrangement of folded leaves and flowers) for using in many Thai ceremonies. This traditional handcraft represents a delicateness and valuableness of Thai arts. Open daily for all visitors.
7. Na Neur Community Cultural Learning Centre
This is a center of Thai traditional art and culture such as a Thai long drum parade group and Manora Thai classical dance group. They perform their shows in many festivals or important events. Hope visitors can participate this impressive moment.
8. Krabi Hot Spring
Managed by private individual, Krabi natural hot spring offers a relaxing hot spring bathing, a very suitable recreation for bikers who want to take a rest before going back to Krabi provincial city.