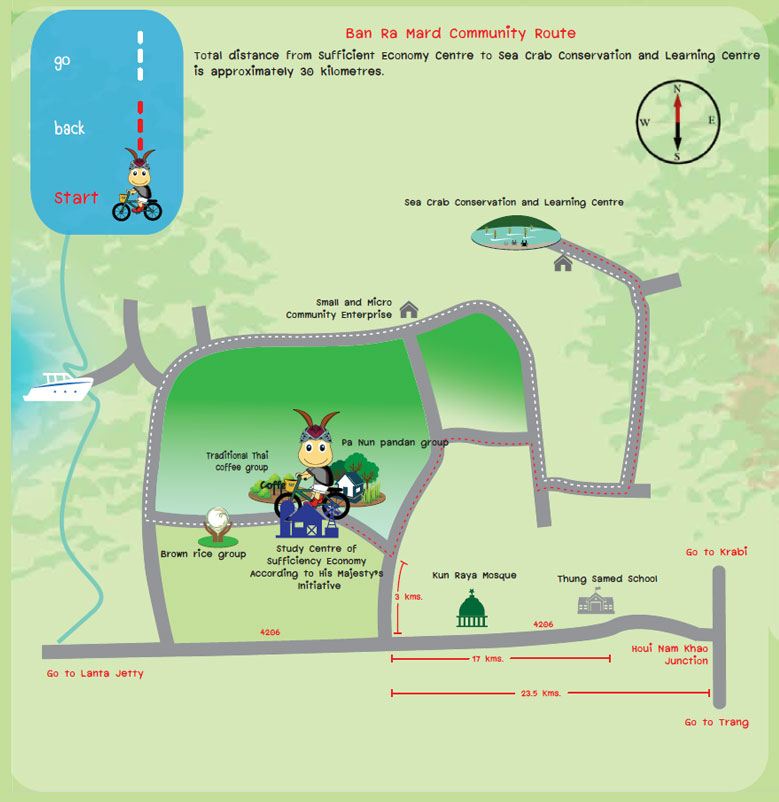 Total distance from Sufficient Economy Centre to Sea Crab Conservation and Learning Centre is approximately 30 kilometres.
Ban Ra Mard Community Route in Koh Lanta district starts from Sufficient Economy Centre and then riding along Ra Mard route. Villagers in this peaceful community live their simple life with unique style. Bikers will discover many local profession groups and feel more relaxed with natural route.
Attractions :
1. Brown rice group
Visitors will experience an unseen lifestyle of local peoples. Villagers transform paddy to polished rice by traditional method. This local uniqueness will bring you to come to this place again.
2. Pa Nun pandan group
As a result of the Royal Project, an initiative of His Majesty, King Bhumibol Adulyadej (King Rama9), local villagers are encouraged to cultivate Pa Nun pandan for their own self-sufficient living. Many products can be made of Pa Nun pandan: bag, basket, mat etc.
3. Traditional Thai coffee group
Coffee is an important economic crop in this area. Villagers create a traditional Thai coffee group in which they work together to prepare, transform and pack coffee to be ready for sell. Coffee lovers should not miss this attraction!
4. Sea Crab Conservation and Learning Centre
Because of the Royal Project, coastal fisheries project has been created at seashore to research and raise aquatic animals such as groupers and sea crabs to support local peoples.
Remark: Visitors can park pick-up truck for bicycles loading at Sufficient Economy Centre, Chaloem Phra Kiat building.